(Heritage) Jamia Arabia Hathaura University, Village Hathaura, Banda District
:: (HERITAGE) Jamia Arabia Hathaura University, Banda ::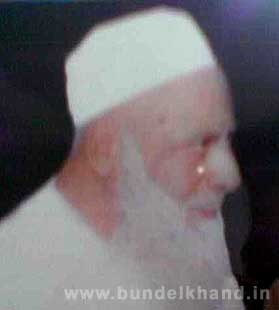 Founder: Hazrat Maulana Mohammad Sayed Siddique Ahmad Bandwi
"Having seen this Madarsa I felt a pleasing wonder. Such a big Madarsa in such a small place. Masha Allah-o- Barak Allah. What forts of Islam are established at how wonderful places."
(Maulana) Abdul Majid Daryabadi Rah.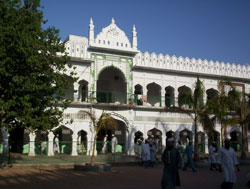 Building where classes are conducted
About ten miles away in the east of Banda city. Hathaura Village is sitauted on Banda-Baberu Road. It is about a mile away from this road. Its a small hamlet with its original inhabitants as Husaini, Wasti and Sadats. Earlier, the village was called Husainpur but because of Syed. Husain Ahmed's Karamat (Super Human Happening) , it was named Hathaura.
After 1947 when India got freedom and after the subsequent disturbance and violence the uneducated and down-trodden Muslims of the regions faced danger of mass conversion. In those days, Hazrat Maulana Siddiq Ahmad Bandwi Rah., founder of Jamia was a teacher at FAtehpur. When he came to know about it, he was shocked. To stop this and to spread the teachings of Islam, he established Jamia Arabia Hathaura in the year of 1952. The start was made under a khaprial roof of the village mosque. Soon after, the needs of Jamia multiplied rapidly. Number of Students increased and new roms were constructed. In 1975 A.D., a grand ocnference was held at Hathaura in which more than ten thousands persons participated.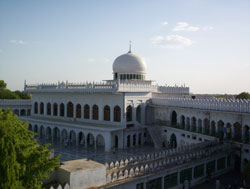 Mecca Mosque of Jamia Arabia Hathaura
The Jamia has completed its 55 years of establishment and of struggle, sacrifice and ultimate success. It has now grown to big institution, which has not only crossed the state and national border but also stepped in many countries like Nepal, Malaysia, Africa and U.K. . now many students from Nepal, Kenya and nearly all the states of India are studying here. Every year a notable number of students complete their education.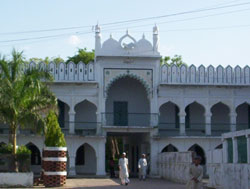 Jamia Library that spreads in 150 feet
Building of Jamia is divided into three blocks. The Jama Masjid is located in South-West part. The dome and floor is magnificent in beauty and architecture. The library of Jamia is located to the south of Mosque in long wings of about 150feet and it consists of 50000 books. Outside the campus, there is Jamia Market with a shopping complex. Also, there are about 60 rooms which are used as dormitory for the students. The west wing is used for Kitchen, store-room, fuel room etc. In the east of this block there is a generator room and two big water tanks. For visiting faculty and guests, guest rooms are provided. And away from these blocks inside the village there is a girl's school of Jamia.
The beauty and glory of Jamia is spell bounding. Once in Jamia, you will feel a divine wisdom and spiritual place. The greenery all around, innocent glances of grazing deers in the playground and water tanks and the warm and exclusive hospitality. This is all what you will get here.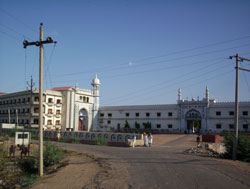 The out view of Jamia Arabia Hathaura
Jamia looks like a fresh rose amidst of unfertile desert. Football is the favourite sport of students of Jamia. You can watch them playing in the playground during evening hours.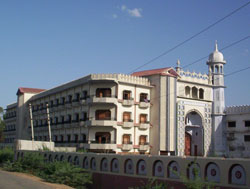 Hostel for Junior Students
"The real quality and characteristic of the Jamia Arabia Hathaura is to be seen and not to be penned down. One should come here and stay for some time".

-- (Maulana) Mohd. Manzoor Nomani Rah.
: Address :
Nazim Jamia Arabia Hathaura,
Banda(U.P.) INDIA
PIN: 210001
Contact & Phone No.-
1. Nazim Jamia 9415143135 M. Habib Sb.
2. Computer Section 9648373700 M. Yunus
Report and Design By: Aamir Hussain, Banda