Jahangir Mahal, Orchha (जहांगीर महल, ओरछा)
Jahangir Mahal, Orchha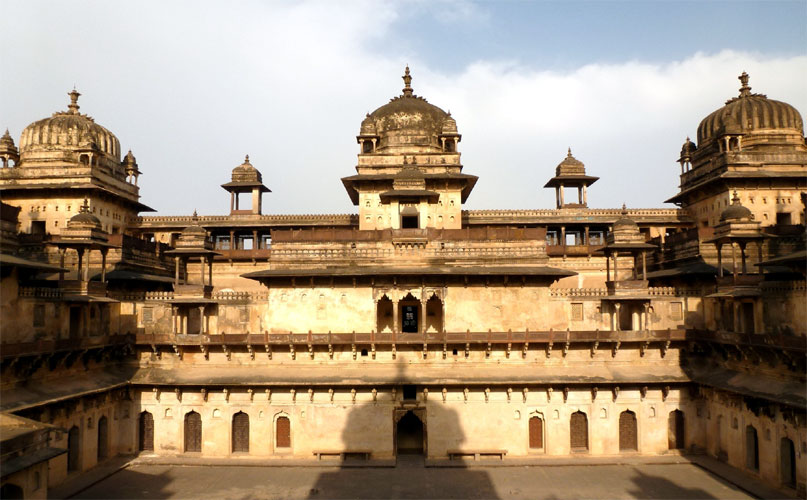 Jahangir Mahal, 17th century mansion, is remarkable for its vivid and fine Indo-Islamic style of architecture. The reason behind the construction of this palace was to honor Jahanghir on his first visit to Orchha. In this storied building, elements like marvelous sculptures, hanging balconies, delicate trellis and chhatris, topped domes, etc., represent an excellent architectural brilliance.
The Jahangir Mahal was built in 17th century by Bundela ruler, Bir Singh Deo. This palace is the symbol of friendship between the Bir Singh Deo and Jahangir. During the first visit of Jahangir in Orchha, this palace was built in his honor. The entrance of the palace is noticeable by traditional and artistic gateway. The front wall of the palace is covered with turquoise tiles and faces to the east. The magnificent Palace is a tourist destination for its grace and finest piece of architecture during Bundela Dynasty.
Jahangir Mahal was built by King Vir Singh Deo, honoring the Mughal Prince Jahangir in the 17th century. This three storied structure is situated in the Fort complex of the Tikamgarh District of Orchha, it overlooks the Betwa River. The palace is spectacular and is built in an Indo Islamic architectural style, it consists of several courtyards, balconies, rooms and domes. The entrance facing the east is elaborate with the wall designed with turquoise tiles. Two stone elephants greet you at the entrance with a bell, which used to mark the entry of the king in the olden times. The best time to visit the palace is between the months of October and March as the temperature becomes pleasant. Visiting hours are, from 7.30 am to 6.00 pm.