(News) According to NGO Report daily 10,000 cattle die in Bundelkhand
---
(News) According to NGO Report daily 10,000 cattle die in Bundelkhand
---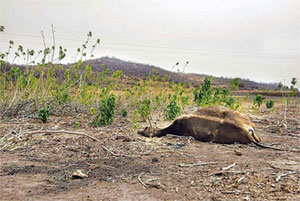 At a time when beef and cow-related issues are hogging the limelight -- and also polarising the discourse in the country - there's a deafening silence about the plight of cattle in Bundelkhand.
Social activist Yogendra Yadav, of NGO Swaraj Abhiyan, alleged that about three lakh cattle had died in the drought-hit region in the month of May alone.
"The BJP's love for the cow is only restricted to newspapers and TV studios. Even as the party's national leadership debates about the cow being rashtra mata and beef sale, at least three lakh cattle may have died in drought-scorched Bundelkhand in May itself. Carcasses are littered across the 13 districts of Uttar Pradesh and Madhya Pradesh," observed Yadav in New Delhi on Wednesday, adding how it's "unbearable stench", which is likely to cause widespread illnesses, "pervades the region".
BJP BLAMES SP
UP BJP spokesperson Chandra Mohan, however, blamed the state government for the crisis. "It (SP government) is responsible for the barbaadi (destruction) of Bundelkhand. You can understand the state government's stubborn from the fact that we (Centre) offered it a water train, but it refused. Their zila (district) level officers and Commissioners are all giving a different account of the severity of drought there. Corruption there is wreaking havoc on the grassroots-level administration."
"At the Central level, all MPs of Bundelkhand have pledged their MPLAD money to its welfare in these drought times," he added.
As per the NGO's estimate, while there are 11,065 villages in the Bundelkhand region of Uttar Pradesh and Madhya Pradesh, all villages on an average reported between 10 and 100 cattle deaths in May which added to around three lakh mortalities in the month.
"We heard widespread reports of fodder shortage everywhere. The 'Fodder Bank' scheme is on paper only. Nobody knows where they are. Or else, relatives of politicians or those families who have no cattle at all, have availed money under it," alleged Yadav.
CENTRE, STATE GOVERNMENTS FACE HEAT
On May 13, the Supreme Court had rebuked both the Centre as well as state governments for trying to evade responsibility of the drought condition.
A bench comprising Justices MB Lokur and NV Ramana said, "You cannot hide behind the smokescreen of lack of funds."
Courtesy: India Today