(News) Chitrakoot to make a list of backward, SC/ST families
---
Chitrakoot to make a list of backward, SC/ST families
---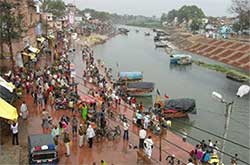 Ahead of tri-layer panchayat election, Chitrakoot administration would undertake a survey to count families belonging to backwards, Scheduled Caste (SC) and Scheduled Tribes (ST) in five blocks of the district. The exercise would enable state authorities to fix reserved seats for panchayat elections.
The survey would start from Monday and once the exercise gets completed on or before June 21, the local administration send a report to state government detailing the population of backwards and other tribes.
In a recent meeting, SDM level officers were appointed as zonal officers for the exercise. Block level officers would assist zonal officers in completion of exercise on time.
Sadar SDM Rajnish Mishra said "The survey at all blocks would be done under the supervision of zonal officers". Officers assigned for counting of families have already undergone training. Every officer would be covering at least 200 houses of every revenue village.
Courtesy: The Times of India