(News) CM Shivraj Singh have launched 24×7 Atal Jyoti Scheme in Sagar.
24x7 power supply launched in Sagar
Chief minister Shivraj Singh inaugurated 24×7 Atal Jyoti Scheme making Sagar the 49th district in the state to get round-the-clock power supply.
Addressing the public gathering at Khel Parisar, Chouhan said that the dreams of the people have come true but the Opposition is unnerved.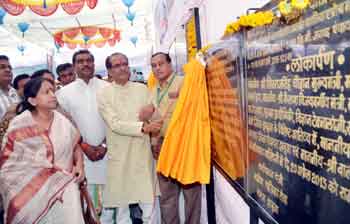 He further said that for the development of Bundelkhand every possible effort will be made by the government and so stress is on developing irrigation facilities and setting up of industries in this region.
He said grain production will increase substantially in Bundelkhand. Chouhan spoke about various schemes that are benefiting every section of society and people belonging to all age groups.
He said concessions in power bills have been provided to the farmers as well as the poor. The CM said the state government has provided every possible assistance to the state pilgrims in Uttarakhand..
Cabinet ministers Gopal Bhargav said earlier people faced frequent power cuts in Chief minister Chouhan launched Atal Jyoti Abhiyan in Depalpur, 30 km from here.
Courtesy : Hindustan Times