Study on Bundelkhand of Planning Commission: Demography - Nuptiality & Couple Protection Rate

Study on Bundelkhand of Planning Commission: Demography - Nuptiality & Couple Protection Rate
Nuptiality & Couple Protection Rate
MP has one of the lowest mean age at marriage for both males and females, in the country. Though there has been substantial increase in it through last four decades, it is still low, particularly in rural areas and further low in backward districts of the state. Table 2.3 presents Singulate Mean Age at Marriage (SMAM) computed from the 1961, 1971 and 1981 censuses the National Family Health Survey (NFHS), for both males and females. Female values of SMAM from the NFHS are 19.7 years in urban areas, 16.7 in rural areas and 17.4 overall. The values of SMAM in backward districts resemble the values of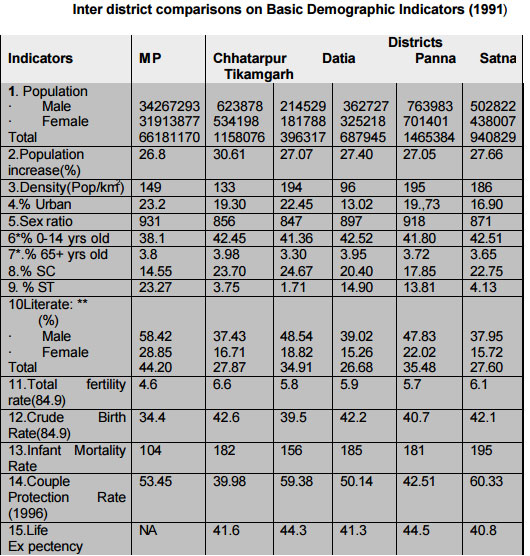 * The data available on these indicators for districts are from 1981 census.
** The literacy-rate for districts in rural literacy -rate (1991) SMAM in the state as a whole. On average, male marry 5 yrs later than females. Marriage ages are consistently higher in urban areas, with urban men marrying about 4 years later than rural man, and urban women marrying 3 years later than rural women.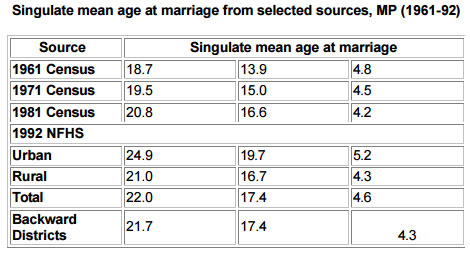 Source :National Family Health Survey, Madhya Pradesh 1992 Couple Protection Rate (CPR) is giving a positive picture for the state of MP. While in 1991, it was 38.8.% for MP, it went up to 53.45 % according to a target couple survey conducted by Department of Public Health and Family Welfare, Govt. of MP, 1996.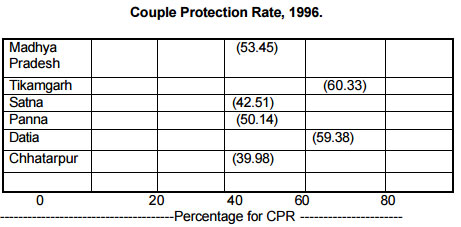 Among the concerned districts, Tikamgarh is well ahead of state average with CPR at the 60.33 % while Datia follows with 59.38% of eligible couples effectively protected against pregnancy. All other three districts have CPR well below the state average. It is worth noting that Chhatarpur district has the lowest CPR in the state with only 39.98% eligible couples protected against pregnancy.