(Heritage) St. George's Church aka "Yellow Church", Banda - Uttar Pradesh
Yellow Church, Banda

About:
Yellow Church, established in1835 A.D. is the most famous and oldest church of Banda . Rather some records have been found that proved that Christianity was in Banda before 1809 A.D. but Yellow Church is one of the best symbol of British architecture and religionin bundelkhand.
Fact File :
# Yellow Church was built by Churches of India (CNI) for regular prayers of Catholic Englishmen and their families living in Banda during early British Period.
# After some time, a college named St. Georges School and College was started in the premises of Church for the study of English children. Before two years this College has been again commenced.
# Made up of Lime and Bricks which was ordered from Allahabad.
# From last 170 years, Window Pans which was then imported from Belgium have not been replaced.
# During 1857 revolt, no damage was made to the Church. It stands just as it is as it was.
# The roof garders of this Church is made up English Cast Iron.
# The Rust free 170 years old Windows Speaks the tale of fine English metallurgical talent.
# This Church is opened every Sunday for Evening Service.
# The Church is built in Typical Italian Style with Conical Tops and Tall Windows.
# Inside the Campus there are three graves of Norwegian Natives of this Church.

Photo Gallery :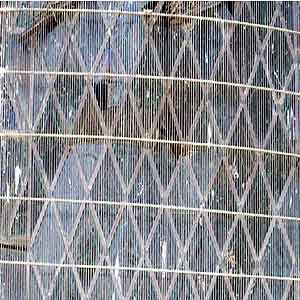 Belgium made glass pans of Church's Windows framed in 1835.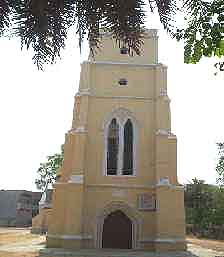 St. George's Church Campus
With our special thanks to Church Authorities.
CONTACT:
Rev. Anupam John
(Presbyter In charge),
St. Georges and St. Paul's Church Banda,
Yellow Church, Chilla Road,
Banda 210001 (U.P.) INDIA
Phone No: +91-05192-220842, +91-7007086261
By : Aamir Hussain