(Article) Chitrakoot Takes A Journey Back In History
Article : Chitrakoot Takes A Journey Back In History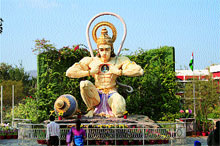 "No one would ever get down or no one would ever climb up....' I was reminded of Ruskin Bond's concluding words when describing a slew of uneventful places, as the UP Sampark Kranti Express waited at to let trains coming from the opposite direction cross us.

By the time sunlight pierced through the fog, we were zipping past barren fields. With no rains in the past few years, the land waited for divine intervention... Not that this land is stranger to the divine: Lord Ram, Sita and Lakshman spent 11 of their 14 years of exile from Ayodhya at this very place —Chitrakoot.

This nook of UP's Bundelkhand region has always led a precarious existence at the end of the northern spurs of Vindhyas, south of the Yamuna with the Chambal's lawless valley to the west. With water scarce and prosperity confined to a few, feuds are common, feudalism deeply entrenched and guns hold pride of place.

In this tinderbox, sparks can turn into major conflagrations and dacoity —now replaced by abductions so well-organised that they are counted as an 'industry'— is still persists. Even if the dreaded Dadua had recently been eliminated, it was cold comfort for me as his successor, Thokia, had his base where I was headed - Chitrakoot, partly in UP and the rest in Madhya Pradesh.

Alighting from the train an hour behind schedule I found Chitrakoot Dham Karvi Railway Station also had a step-back-in-time air. The platform was two steps below the bogie's level, the quaint main building was built of stone—its jagged muscular edges smoothened by a thick coat of paint—and a part of the wall behind its three arched verandah functioned as a makeshift blackboard, with train schedules handwritten in chalk.

Going by the list it appeared that not many trains halted here. Next to it was an inverted U-shaped tong-like contraption made of iron and hung from an sturdy stanchion. Striking between its two arms announced the imminent arrival of a train.

It was a must at railway stations when I was a child, till it was replaced by the PA system.
Chitrakoot was 8km from the station and there was nary an empty rickshaw so I took an autorickshaw from the bus stand, a km or two away. Then I realised why. It was Republic Day — 26 January — and the road was full of long columns of students marching waving small plastic flags. Read more..
Courtesy : Economictimes.indiatimes.com