(Event) Panna Diamonds To Be Auctioned Starting July 25, 2011
Panna Diamonds to be Auctioned Starting July 25, 2011
The diamonds from the shallow mines of India's Panna district will go up for auction beginning July 25. The auction will take place via the Diamond Officer in Panna.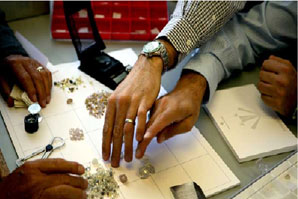 Bids can be placed from 9 a.m. to 11 a.m. daily, following inspection of the diamonds. The auction will continue until all of the diamonds have been sold.
A total of 110 diamonds are up for bid, weighing 99.72 carats in all. Some other diamonds that are not part of the 110-diamond packet will also be up for auction.
Bidders have to deposit about $100 prior to the auction in order to participate. The highest bidder then has to deposit 20% of the winning bid with the Panna Diamond Office. Collection of the diamonds is dependent upon paying off the rest of the bid within 30 days.
Courtesy : israelidiamond.co.il