(NEWS) Rahul Gandhi begins his two-day visit to Bundelkhand (Jhansi, Banda, Hamirpur, Mahobe, Orai)
Rahul assures a Bundelkhand state

All-India
Congress Committee general secretary Rahul Gandhi began his two-day tour to Bundelkhand from Wednesday to assess the drought by
directly interacting with people.
He blamed
the Mayawati government for the 'continuous drought' in the region.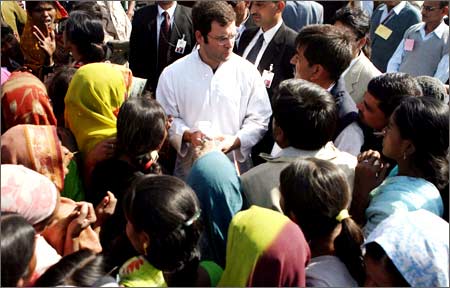 "Had
the UP government honestly implemented the Centrally-sponsored schemes, the
situation would have been different," Rahul  said.
He said the Congress was serious on the
Bundelkhand drought issue and would very soon announce a hefty package on the
lines of Vidharba package.
During the tour, he also met the members of
Bundelkhand Mukti Morcha, fighting for a seprate Bundelkhand state. He assured
them that their demand would be fulfilled soon.
The
Morcha, led by renowned TV star Raja Bundela, met the young MP and apprised him
of their demands, which they claim was the only solution for ending the
backwardness of the impoverished Bundelkhand region.
"Rahul
Gandhi has conveyed that Centre has in principal accepted the concept of the
separate Bundelkhand state, which will comprise several districts of UP and
MP," Bundela said here.
"You
will have a good news soon," Rahul had assured the Morcha.
Courtesy:
Rediff
Photograph
Courtesy : PTI