(NEWS) Rajya Sabha adjourned over Bundelkhand ruckus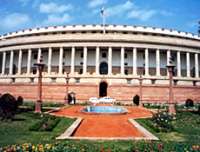 The Rajya Sabha was adjourned Thursday morning when a question on what the government was doing in the four 'bimaru' states of Bihar, Madhya Pradesh, Rajasthan and Uttar Pradesh escalated into a full fledged row.
The opposition seemed to get riled when Satyavrata Chaturvedi of the Congress got up to say that Bundelkhand region, which is spread over Madhya Pradesh and Uttar Pradesh, was being ignored by both states. At this, a Bahujan Samaj Party (BSP) MP took umbrage and asked what was the basis of the statement.
Soon, there was pandemonium with opposition MPs gathering near Chairman Hamin Ansari's podium. Unable to control the MPs, Ansari adjourned the house for 10 minutes.
The union cabinet last week approved a Rs.7,266 crore package for drought relief and agricultural development of the Bundelkhand region that has suffered a sustained drought for the past four years.
Congress general secretary Rahul Gandhi had met Prime Minister Manmohan Singh in July to press for the implementation of the central government report on Bundelkhand. He had also demanded a separate Bundelkhand Development Authority under the central government to route all funds for the region's speedy development, a proposal Uttar Pradesh Chief Minister and BSP chief Mayawati opposed.
Courtesy: Sify News