Karvi women come up with a recipe of success and independence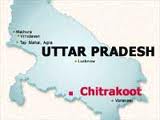 They are illiterate and have never undergone any vocational training, but they are churning out 'recipes' of success and self-reliance from their kitchen!

From just being homemakers, 20-odd women in Karvi town in Uttar Pradesh are also earning for their families by offering catering services under the brand name of 'Apni Rasoi'(Our Kitchen).

'Be it a small birthday function or big parties or wedding ceremonies, we offer catering services not only in Chitrakoot but in various districts of Uttar Pradesh,' Kamlesh Devi, co-ordinator of Apni Rasoi, told IANS.

'Honestly, none of us had ever thought that we could contribute to our family's income. It has all become possible with the team work involved in running Apni Rasoi. We also thank Varangana (a non- government organisation) that united and motivated us for launching the catering services,' she added.

The women's group has been providing full-fledged catering services for over six years now. Today they take pride as their Apni Rasoi annually earns profit ranging from Rs.3-4 lakh on an average.

'Depending upon the labour, we distribute the money amongst the workers. For example, if any worker goes out of the district for catering, she is entitled to get Rs.180 a day against Rs.140 given to workers offering the service locally,' said Devi.

A majority of the women involved in Apni Rasoi are married, whose husbands are either daily wage labourers or small farmers.

Apni Rasoi earns maximum profit during 'sahalag' (auspicious period for marriages).

'In 'sahalag' we get orders not only from Chitrakoot but from nearby districts, including Banda, Lalitpur, Mahoba, and Jalaun. Recently, our team members also visited Lucknow, where we provided our services for a wedding ceremony,' said Ram Kali, a worker with Apni Rasoi.
Read more..
Courtesy: Sify.com