(News) Rahul pushed Bundelkhand case, Cabinet to discuss Rs 7,000-crore package
Rahul pushed Bundelkhand case, Cabinet to discuss Rs 7,000-crore package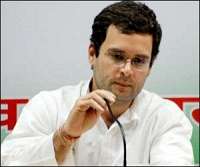 After a year-long intense campaign by Congress general secretary Rahul Gandhi that catapulted the backward Bundelkhand region into the national political discourse, the Cabinet will finally discuss on Thursday a comprehensive Rs 7,000-crore package that envisages large-scale irrigation and river-linking programmes.

The planning commission has sought the Cabinet's approval for the package that calls for drought-mitigation in 14 districts of the Bundelkhand region, spread over Uttar Pradesh and Madhya Pradesh. These districts are Jhansi, Banda, Chitrakoot, Chhatarpur, Damoh, Datia, Hamirpur, Jalaun, Lalitpur, Mahoba, Orchha, Panna, Sagar and Tikamgarh.

Rahul Gandhi, along with UP Congress chief Rita Bahuguna Joshi, had met Prime Minister Manmohan Singh in July to press for the implementation of a Central government report that recommended an economic package for the region. The Centre constituted a team that toured the region and suggested a package worth Rs 8,000 crore.

Gandhi had also demanded the setting up of a separate Bundelkhand Development Authority under the Central government that would be authorised to route all funds for the region's speedy development, a proposal that now seems unlikely due to constitutional hurdles.

The Congress-led government at the Centre and the Mayawati government in Uttar Pradesh have been at loggerheads since 2008 over Bundelkhand, blaming each other for the region's backwardness. Besides, Mayawati, who is opposed to the idea of a separate authority, Madhya Pradesh chief minister Shivraj Singh Chouhan too has been vocal about his opposition, saying this would result in duplication of efforts in giving the region a facelift.

Of the total Rs 7,000 crore package, Rs 4,000 crore is likely to be utilised on developing the Bundelkhand districts within Uttar Pradesh and the remaining Rs 3,000 crore for districts in Madhya Pradesh. While part of the funds will be for linking the Ken, Betwa rivers, a chunk will be set aside for increased outlays under the Accelerated Irrigation Benefit Programme and setting up of tube wells.

Incidentally, state-run power giant NTPC's proposal to set up a 4,000 mw plant at Lalitpur is unlikely to happen as the Mayawati government has proposed to build a plant there at its own expenses.

Politicking over the politically-charged Bundelkhand issue took a new turn recently with UP government officials asking counterparts at the Centre to provide a package for the drought-hit region based on the Gadgil-Mukherjee formula applicable to special category states. Describing Bundelkhand and eastern Uttar Pradesh as backward areas, the Planning Commission told UP officials that the state had done little for the two regions and even if it had attempted to do so, the strategy did not fructify.
Courtesy: Financialexpress.Com