New Possibilities for Tourism Sector in Bundelkhand Region
New Possibilities for Tourism Sector in Bundelkhand Region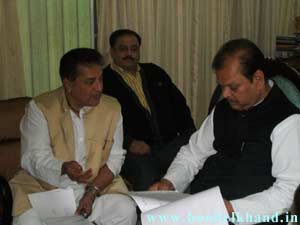 It gives me immense pleasure in informing the Press Media about our National
President, Mr. Raja Bundela [Bundelkhand Mukti Morcha] and his associates Mr.
Ranbir Singh Yadav Ji, Zille Singh Ji, Ashok Ji, Rakesh Kumar Jain ji, Sunit
Kohli Ji, Rommy Vij Ji and Vinod Kumar Ji, meeting with Hon. Shri Subodh Kant
Sahay ji, Union Minister of Tourism on 21st February 2011.  It was an excellent
meeting for about 45 Minutes during which lot of new possibilities for Tourism
Sector in Bundelkhand Region were discussed at large with him.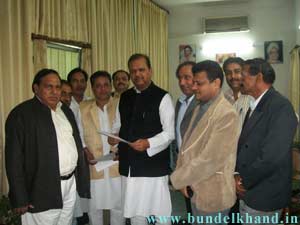 Among the major issues discussed with Shri Subodh Kant Sahay were that a few
places such as, SONAGIRI, JHANSI, DEOGARH, KALINJAR (KALINGER), CHANDERI, CHARKARI,
PAWAGIRI and DATIA which have the potential of becoming a major Tourist
destination have been completely ignored by our Government.  It is our humble
request to the Union Minister Sahib to kindly consider these and to please
include them as Tourist Destinations and help us to promote these places.  A
complete Memorandum alongwith a brief details of each above mentioned places
have also been submitted to his office.

 

Hon'ble Minister has assured us of his full support in developing the Tourism in
the Bundelkhand Region. He has also mentioned that he will definitely visit
these places and will bring it to the notice of our Indian Government.
Vinod Kumar