The Press Trust Of Bundelkhand (PTB) - प्रेस ट्रस्ट ऑफ़ बुंदेलखंड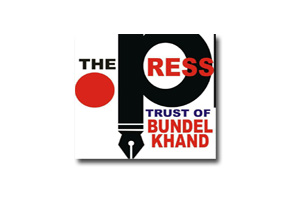 The Press Trust Of Bundelkhand (PTB)
According to the trust deed The Press Trust of Bundelkhand/Declaration of PTB Trust was constituted on 3rd February, 2018 by the members of Trust(Trustees). It has been constituted to foster democratic sovereignty, transparency in development schemes, religion, caste, class, community, equality in society, equity, freedom of press, human rights of media, proper social intervention, social security, national economic development, natural (environmental) partnership, for the promotion of rural journalism, to make communication- technology available in remote areas. Along with yellow journalism, paid or sponsored news, advertisements, liasoning, media embezzlement- scam exposure, implementation of recommendations of Majithia Commission the trust seeks to promote and strive for public. Whatever funds, property is acquired through donations financial aid, or contributions received through charitable means shall be spent with accountability ( transparency) for those working in media,directly or indirectly. The mention of which shall be done from time to time on website or newspaper.
Trust Office-

1 Main Office- Devendranath Mishra, Podabagh, Aliganj, Banda.
Camp Office- Ashish Sagar, Near Forest Department Office,Civil Line, Banda,UP, India PIN-210001
Website - www.ptbpress.com
Mobile number - +91-9621287464
Constitution of PTB based on the objectives of the Trust to unite and consolidate efforts of all those associated with the Indian Media akin to nation based activities. Thrust will be on services associated with human life such as bearing torch for education, training, rehabilitation, medical aid, housing for employed journalists, literature, publication, cultural richness, suppression of ill feelings of enmity.
Vision-

Expurge journalism from the constricting battle of words, carry it to exalted and progressive mode. So that end of yellow journalism becomes possible.
Mission-

Continuous freedom of press, implementation of Majithia Commission, human rights of the journalists and sexual offences against women journalists, giving impetus to nonviolence, consolidation of rural and tribal journalism.
Aim-

Taking Indian and global journalism to the summit of excellence through democratic means whence violation of human rights is not possible.
Objectives of constitution of Trust-

Following Press Trust of India which is based on the principles of the union of all those engaged in the field of journalism, the Press Trust of Bundelkhand has been established with focus on areas of Bundelkhand, Uttar Pradesh and Madhya Pradesh.
The vision of Trust is enumerated pointwise:
1. Freedom of Press and radio, ensuring freedom of television, print media, electronic media like social communication platforms, copyright or safeguarding the origin of thought, safeguarding the right to disagree/ dissent, promoting respect towards media persons.
2. Persistent review of laws related to conviction so that they are based on principles of humanism and liberalised press.
3.
On coming to know through news of any oppression by the police, facilitate Lok Adalat, help in providing legal aid to the poor, providing quick justice through legal recourse. Provide all possible help in case of delay in getting justice, huge expenses, opposing all oppression based on race, caste, gender, religion, birthplace with the help of the police and prevention of communal bias through legal methods.
4. Checking of misleading information in cyberspace, social

media platforms, news, media generated crime, character assassination of journalists. It shall work towards safeguarding of human rights of journalists.
5. It shall provide medical facility or aid or even counselling in the event of accidents, sudden death,rehabilitate,
social and economic development and it is determined to get, from time to time, from social services, social, governmental, non governmental agencies all help and contributions to promote all round development to media persons.
6. Setting up educational institutions for the training, research, fellowship, Seminar, discussion, awareness celebratory movement for occupational journalism, alternate journalism, those engaged in studies in rural communication technology institutes and provide training to both men and women research scholars.
7. It will work actively for the welfare of those in media who have physical debility (differently abled), neglected, economically or caste backward/deprived, tribal populace.
8. It shall strongly condemn yellow journalism, decline in ethics among journalists, media scam or undue appointments.
9. If any clause or subclause is inadvertently left out technically during the construction of the Trust it can be added or removed at a later time.
Besides the Executive Trust body, for the functioning of the Trust there shall be a Managing/ Core This Core Team or body shall have a President, Senior Vice President, Junior Vice President, Manager/ Secretary, Honorary Secretary, Treasurer, five patrons or esteemed members. Along with it, in each district District Executive body shall be constituted. The members of which shall be elected for a 3 year term.
PTB Trust and Prawas Society-

The Press Trust of Bundelkhand and PRAWAS Society (People Resource and Women Advocacy Society)- Shall work for advocacy of journalism in parallel public welfare and rural development. The jurisdiction of both shall be entire India. Bundelkhand shall be the main centre of activity.
The profile and photo of PTB's trust board, management executive / core team members will be updated on the website so that information in society, media, government and administration is in cognition.