Akhilesh Yadav may contest UP Election from Babina in Bundelkhand
---
Akhilesh Yadav may contest UP Election from Babina in Bundelkhand
---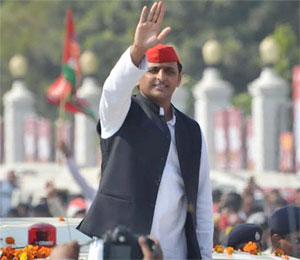 Uttar Pradesh chief minister Akhilesh Yadav has reportedly proposed that he will contest the upcoming assembly election from Babina seat in Bundelkhand in the list of 403 candidates submitted to Samajwadi Party president Mulayam Singh Yadav on Sunday.
Babina (Jhansi) seat has been with the Bahujan Samaj Party (BSP) since 2007.
Instead of claiming a seat that the SP won in 2012, Akhilesh has perhaps chosen a lost constituency to send a message to the cadre that he is leading from the front.
In 2012, the SP was far ahead than BSP in all the regions except Bundelkhand where Mayawati's party won seven out of 19 seats. The SP won five, Congress four and the Bharatiya Janata Party bagged three seats in the region.
On December 16, Akhilesh had hinted he might contest a seat in Bundelkhand "as chief ministerial candidate".
Two days after the announcement, he sent a proposal to the party's national president about his desire to contest from Bundelkhand. "Some Bundelkhand people came to me and requested me to contest from a seat in the region as no chief minister has been elected from there," Akhilesh had said.
An MLC (member of the Upper House), Akhilesh has won Lok Sabha polls thrice but has never contested assembly elections.
He is likely to contest from two seats like he did in 2009 Lok Sabha elections. He had fought Kannauj and Firozabad Lok Sabha constituencies and won both. He retained Kannauj and made his wife Dimple Yadav a candidate in the Firozabad by-poll.
Dimple, however, lost the seat to Congress candidate Raj Babbar. After taking over as the CM in 2012, Akhilesh had to quit Kannauj seat from where Dimple was elected unopposed.
Reportedly, Akhilesh's original plan was to contest an assembly seat in his wife's Lok Sabha constituency.
Courtesy: Hindustan Times