Ashish Tiwari from Chhatarpur Bundelkhand cracks IAS Exam 2015
---
Ashish Tiwari from Chhatarpur Bundelkhand cracks IAS Exam 2015
---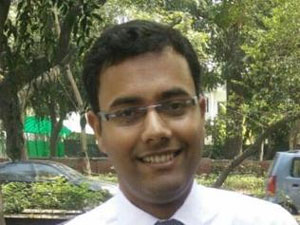 After fulfilling his thirst for success by securing the sixth rank in the civil services exam, Chhatarpur resident Ashish Tiwari wants to quench the thirst for water in Madhya Pradesh's drought-hit Bundelkhand.
A mechanical engineer at Indian Oil Corporation Limited (IOCL), the 26-year-old said his aim in taking the Union Public Service Commission (UPSC) exam was to resolve unsolved issues in Bundelkhand, where incomes are low.
"I think being an IAS, I could help my people by establishing sources of irrigation in Bundelkhand and bring some small and medium enterprises for generating another source of income," said Tiwari.
Ashish did his schooling from the Saraswati Sishu Mandir School till Class 8 and studied in the Government Excellence School, Chhatarpur after that.
He also scored well in the All Indian Engineering Entrance Exam and did his engineering from NIT-Jamshedpur.
"If student keep focus on studies, it doesn't matter from where a person did his schooling and where he belongs. But yes I find some loopholes in education system and I want to improve it too," he said.
Ashish, who juggled exam preparation alongside a job at Indian Oil in Jaipur, felt it is not too tough to clear the exam with a job.
"It's a myth that a person can't crack the UPSC while doing a job. I balanced my job and studies. In day time, I used to do job and in the night studies. In between my job, I used to take leave to visit Delhi to clear my doubts," said Tiwari.
With tears of happiness in his eyes, his father PK Tiwari said, "My son has done schooling from a government school of Chhatarpur. He was never a demanding son. He did his engineering from NIT Jamshedpur but his quench for the success didn't end with job in IOCL."
Now, he also proved that a small town boy can do anything with this hard work, he added.
Courtesy: Hindustan Times