आषीश सागर दीक्षित, Ashish Sagar Dixit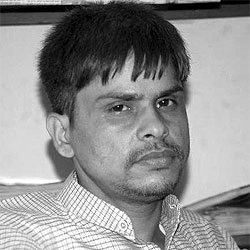 आषीश सागर दीक्षित
Ashish Sagar Dixit
Founder, Director
Prawas Society
197/14, Near forest office,
Uttar Pradesh, INDIA
Mobile: 09621287464
Email:

ashishdixit01@gmail.com
About Ashish Sagar Dixit:
Ashish is a social activist based in Bundelkhand region on Uttar Pradesh; focusing on Environment, RTI, Rural Development, Rights to Food, Child Health Rights, Human equality and social issues.
Current Engagements:
Director, Prawas Society

Editor, Prawas Magazine. ISSN 2394-7861 Environmental Research and farmer drought Issues

Convener, at Haryali Chaupal From 2016 Tree Ek Zindgi Abhiyan.
Convener, Annadata Ki Aakhat for farmer suicide relief fund in Bundelkhand draught area.
Convener, Talaab avam Bhudan Charagaah Mukti Abhiyan 'Jal Yatra' July 2016

Spokesperson,

Bundelkhand Bhartiya Kisan Union (Bhanu Gut).
Work Experience:
Young Professional in Council for Advancement of People's Action & Rural Technology
(CAPART)
under the agency of Ministry of Rural Development, Government of India. Year July 2007 to Sept 2009.
Recognition & Awards:
Social works Award 2011, Amar Saheed Mangal Pandey Foundation,New Delhi
Jagran Media Pvt.Ltd. News group RTI activist award, KISAN MELA 2012 Banda.
Nominated for Asia Pacific International Award by Global Achievers foundation,Delhi
'Parayavaran Prahari' social Award from Sargam calture Sanstha, 2014
'Parayavaran Prahari' award 2014 from Green Care Society, Meerut,U.P.
'Shri Vishnu Dutt Mishra Mamorial RTI ratn award 2015' from Ashwaryaj seva sansthan & RTI mahila manch, Lucknow, UP
'Veer Bundeli' Award from Shri Radha Krashna Bundeli Foundation,Banda,2015
SHINING DIAMOND AWARD 2016 from Anti Corruption Foundation,Karnal,Haryana, 2016
Bhadas4Media Sarokar Award 2016,New delhi.