Bariyari Village, a curse of nature
---
Bariyari Village, a curse of nature
---
Bariyari is one of the most marginalized villages in Mahua block (Naraini tehsil) of Banda district in Bundelkhand region of Uttar Pradesh. It is situated in the Basin of Ken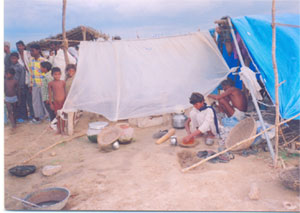 River, at a distance of 8 km from Mau village. One has to negotiate a 3 km long way, followed by 1 km mud-spattered way with no any link road. The population of Bariyari is about 400 hundred comprising about 40 to 45 families that comes under BPL section and 90% backward class. The population in this village depends completely on agriculture for making their both ends meet.
In the year 1992 and 2006, this particular village had seen the catastrophe by the heart-rending flood in nearby Ken River. However, popular support of local people and outstanding singular efforts by Dr. O.P. Singh, (Krishnarpit Sewa Ashram) culminated in rehabilitating the affected population, beginning with most vulnerable ones. The second tragedy that had unfavorably fractured the said village was drought from last five years in Bundelkhand. Because of three consecutive blows of nature like flood and drought, some 35 families in the village were left with no wherewithal in a completely shattered state along with the painful depletion of their agriculture. The floodwater had washed away the top soil (2-4 mt.) of approx. 400 acres of fertile lands. After the flood of year 1992 and 2006, the farming land in the bank of river has turned into gullies and infertile.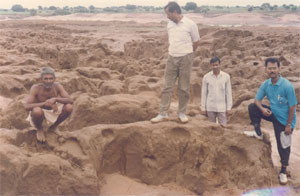 In view of the fact that the local population in the village has no other means of livelihood except agriculture, therefore many of them are now compelled to migrate and about 30 families are under the excessive weight of debt from local money lenders. Apart from this, the diminishing natural resources, unavailability of safe drinking water sources, land degradation, traditional mono cropping system, and no exposure to any development process have unfavorably contributed to make this village more marginalized.
A ray of hope still lingers in the village is the availability of vast land, good ground water status, and natural stop dams (at some reasonable distance) against only 400 populations. Those endorse a great scope of carrying out some innovative, integrated, and strategic efforts in the village in terms of natural resource management with diversified agriculture using low cost innovative techniques. Such efforts might ensure food security to the local village community through a sustainable farm based livelihood means in coming years. The need of the hour is to draw attention of civil society organizations of the area and government to join hands to uplift the community of this part of region.
By: Abhilash Nigam
(Courtesy: Krishnarpit Sewa Ashram, Banda)