(Book) Nature As Reflected in The Art & Architecture of Khajuraho : Dr. S.K. Sullerey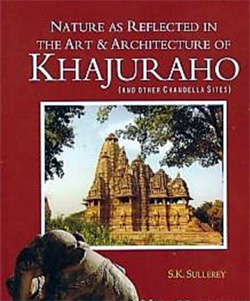 (Book) Nature As Reflected in The Art & Architecture of Khajuraho : Dr. S.K. Sullerey
Book Title: Nature As Reflected in The Art & Architecture of Khajuraho
Author: Dr. S.K. Sullerey
Hardcover: 114 pages
Publisher: ABI Prints & Publishing (2012)
Language: English
ISBN-10: 8186787178
ISBN-13: 978-8186787175
The Chandellas of Jejakabhukti (present Bundelkhand region of U.P. & M.P.) were great rulers, warriors and builders of their times.
Their cultural achievements were more significant than their political achievements. They decorated their kingdom with forts, palaces, temples, tanks, lakes and gardens, which were mainly centred in the cities of Mahoba (U.P.), Kalanjara (Kalinjar) (U.P.) and Ajaigarh (M.P.) and to lesser degree in towns of Dudhahi, Chandpur, Mandanpur and Deogarh, all in Uttar Pradesh.
But none of these places could be compared in magnificence with Khajuraho which was adorned by the Chandellas with beautiful temples, tanks, lakes and gardens.
According to literary tradition, the place had originally eighty-five temples, but only twenty-five remain in different stages of preservation. In the art of Khajuraho every aspect of human life from birth to decay, every phase of our imagination realistic or otherwise, is depicted with great delicacy through the chisel of the artists of the Chandellas.
Much work has been published on the different aspects of Chandella art and architecture. But no attempt has been made so far to study the reflection of environment on the Chandella art and architecture.
Jejakabhukti is a beautiful region with rich flora and fauna that is set against the lovely and picturesque landscape a definite inspiration for the Chandella artists.
An attempt has been made in the present volume to study the reflection of nature on the basis of literary and archaeological sources.
The present book will be useful to scholars, researchers, tourists and general readers and is a valuable contribution to Indian art in general and Chandella art in particular.
Book available Online at:
https://www.amazon.in/Nature-Reflected-Architecture-Kharuraho-Chandella/dp/8186787178
About Author: