(News) Bundelkhand Anna Pratha (अन्न प्रथा) : yet another problem for farmers
---
Bundelkhand Anna Pratha (अन्न प्रथा) : yet another problem for farmers
---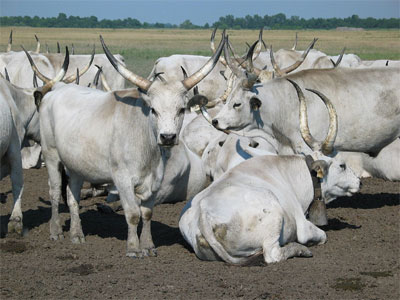 Around March last year, many in Bundelkhand villages began herding their cattle far from home, to abandon them and in the process unburdened themselves.
"I couldn't have killed them, I had no choice," says Ram Pal Nishad of Hamirpur's Gahrauli village, who had left his two cows and a calf near the highway to Mahoba.
He was not able to feed his animals. Or give them water. He hoped they would survive on their own by foraging.
In Bundelkhand, spread across seven districts of Uttar Pradesh and six of Madhya Pradesh, this was the price farmers were paying for the drought and other weather vagaries inflicted on them by nature.
Abandoning the cattle — Anna Pratha — as it is known, is part of the contingency plan that has become a tradition of dark times.
They have done this 13 times in last 15 years, each dry season forcing them to shed the number of cattle to support their families.
"What one can do when there is little to feed the family; there is no fodder, no water for the cattle," asks Brij Bhan, a farmer of Salaiya Khalsa village near Kul Pahar in Mahoba district. While then it was about abandoning cattle, this time round it is the battle against the cattle.
For after nearly 15 years and 13 droughts, the farmers are expecting a bumper crop. But the fear is the army of uncontrolled cattle could harm their produce and fields.
In Gahrauli, the people have built a wall of dried overgrown bushes, babul and Reunja plants that covers the boundary of the village with some 400 families. A barrier has been put up at the entrance of village and a male member from every household take turns for guarding.
Inside, they have caged some 200 cows and bulls, which they caught close to the village last month.
"Everyone of us are guarding and keeping vigil, if the cattle manage to sneak, they will eat the crop and destroy field after field as they normally do," says Dhirendra Rajput of Gahrauli.
In fact, the entire Bundelkhand is catching the cattle and keeping them in make-shift shelters. They will be released only after the harvest concludes.
As the battle against the cattle rages in the region, it has taken the sheen off the assembly elections. Taking a cue, the political parties and candidates are also keeping low due to the fear of backlash.
Farmers had been demanding the government to help them get rid of their most frightening scourge. But, the calls went unheeded.
In protest, the farmers created ruckus at the public meeting of chief minister Akhilesh Yadav last month in Hamirpur.
The chief minister assured them to introduce 'Bhoosa" (fodder) policy to feed the stray cattle, which get into the fields to forage.
Read More.....
Courtesy: Hindustan Times