(News) Chandaur Village In Banda, Bundelkhand Pledges To Boycott UP Elections 2017
---
Chandaur Village In Banda, Bundelkhand Pledges To Boycott UP Elections 2017
---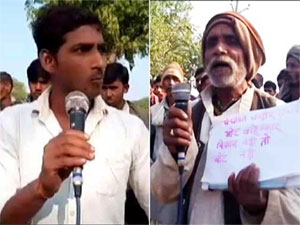 Almost all the 4,500 residents of Chandaur, a small village in the Bundelkhand region of Uttar Pradesh, are gathered in front of the primary school to discuss the assembly elections in the state, but within minutes it turns into a full-fledged protest. The villagers are angry with the lotus, the hand, the cycle, the elephant and every other symbol that represents a political party. None, they say, have done any work for them. The sitting MLA here, is from the Bahujan Samaj Party.
One by one, villagers take the microphone, their voices filled with anguish and anger at an electoral process which they feel merely exploits their vote. Their message now - Chandaur will not vote.
Anand Kumar, a young daily wager says for years young men in this village have struggled to get an education. When they do get an education, they don't get jobs. Like Shiv Bodhan, who is in his thirties and has a Masters degree in Arts but is unemployed. "What's the point of our degrees when to get jobs you need to have money to bribe people? Politicians tell us they will focus on the youth but our ears have tired of listening to these lies," Bodhan says, adding, "We don't have a job, they don't have a vote."
Malkhan Lal, who works on farms and as labour, thrusts a sheaf of papers at us to show how many court cases are pending here. "We're from a poor village in Bundelkhand, so no judge, no lawyer is interested in us or our cases. Whether it is about land or about the identification required for ration cards, we have been fighting just to get our basic entitlements. Yet each elections, like mules we would go to vote. No more."
Courtesy: NDTV