Drishti Blind School, दृष्टि ब्लाइंड स्कूल Chitrakoot Bundelkhand

Drishti Blind school, Karwi
Address: Shankar Bazaar, Karwi
District Chitrakoot, U.P.-210205
Phone: 05198-236234, +91-9450170442
Email: drishtiblindschool@gmail.com
About Drishti Blind school, Karwi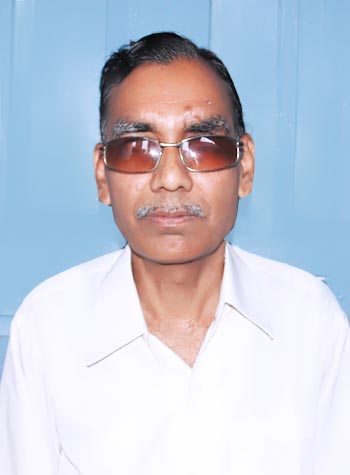 Drishti is the brain child of Shri Shankar Lal Gupta, who lost his both eyes when he was only three years old. He was from an ordinary family and had to struggle for his education and livelihood. In that journey, idea of this organization originated and he did some initial work during his Indore days. As a formal organization "Drishti" was born on 15th October, 1995 in Chitrakut Dham Karwi which is also the birthday of Dr. A P J Kalam who is the pioneer of modern India and has given Vision 2020 document and appreciated efforts of Drishti during his Chitrakut visit in the year 2005. Chitrakut which is the most backward area of Bundelkhand in Uttar Pradesh, India, was naturally best suited to perform for Shankar Lal Ji who has always taken new challenges. Chitrakut is famous in the whole world for its mythological importance where Lord Rama had spent fourteen years of his exile. Karwi where is Drishti headquarter, is a small town with the disrict headquarter of Chitrakut and located in Jhansi-Jabalpur train route and Jhansi-Allahabad National Highway passes from the town. Nearest Airport Khajuraho is 200 K.M. from Karwi.
Initially Drishti started its operation from a small rented room to provide Braille printed material and elementary Braille Bank equipments to help the visually impaired people. Later on it started a small hostel for the blind girls which motivated Jagat Guru Swami Ram Bhadra Charya ji Maharaj to start a Viklanga Vishwvidalaya in the Chitrakoot, so Drishti has the distinction of becoming the inspiration source of first handicapped university of India. Drishti as the society was registered on 15th Oct, 1995 and initially it had few members, its name Drishti was given by Dr. Anupama Gupta and logo of Deepak was also designed by her. On 18th Aug, 2004 the formal school was started which was duly recognized by Govt. authorities wherein presently more than 60 blind girls are getting free residential education. In the year 2008, Drishti parisar was started in Chitrakot MP with the basic objective of providing vocational training center to the educated visually impaired ladies. It also intends to do the farming operation to make school and children self dependent. It further aims to provide similar activities for the people of Satna District and Bundelkhand area of Madhya Pradesh. In April 2009, Drishti's national office was started in New Delhi.
Founded on 15th Oct, 1995 in Chitrakut, Uttar Pradesh to help the visually impaired by Shri Shankar Lal Gupta, who himself is blind.
Now Drishti successfully running residential school for blind girls without any government aid in the backward region of Bundelkhand
It has started its MP Center in Chitrakut, Satna for vocational training of Blind Youths and National Office started in Delhi.
Drishti documentary was launched on 14th November Children's day in Chitrakoot.
Established on 18.8.2004 in Chitrakoot Dham, Karwi
Only Govt. recognized school for blind girls in UP
Blind students of 5 different states of India
More than 50 number of Blind girl students
Providing free of cost residential education
Besides conventional education children learn Music, Dance and Yoga training etc.
Many of the teachers are also Blind
Drishti Milestones
In 2005 visited by Ex President of India Dr. APJ Abdul Kalam, who praised the commendable work.
Successfully running Uttar Pradesh's only Braille Bank on No Profit Basis.
Bestowed with an excellence award from U.P Govt. in 2008.
Inspiration of foundation of ViklangaVishwavidalaya in M.P.
Organized 3 group marriages camp for blind youths
Survey of blind population of Bundelkhand region
Launched Adult Blind Literacy Camp
Providing vocational training center to the educated visually impaired ladies.
Photo Gallery:
Ex- president Dr. APJ kalam
with Drishti Children.
Predeep Ji giving speech.
Hon'ble Sri Pradeep jain Ji,
Minister of state rural
development, Govt. of
India with Drishti family.
Pradeep Ji with Drishri Director
Virag Gupta.
President giving certificate to
child.
President with Drishti Blind
School Founder Shri
Shankar Lal Gupta.