Drought Triggers Large-Scale Migration In MP Bundelkhand (Via HT)
Drought Triggers Large-Scale Migration In MP Bundelkhand (Via HT)
Drought in Madhya Pradesh's Bundelkhand has triggered large scale migration as rabi sowing has come down by almost half this year and there is not enough employment opportunities available locally.
Half of the 18 districts in Madhya Pradesh that are reeling under a drought because of weak a monsoon are located in Bundelkhand, where deputy director agriculture AK Nema said rabi sowing was 50 to 60% less in main districts --- Chhatarpur and Tikamgarh districts --- as compared to last year.
The impact of the drought on locals, especially the poor, can be measured through migration visible at railway stations and interstate bus terminals. Local railway officials say that this time, migration is almost three to four times of a normal year when 300 to 400 people used to travel to other cities looking for jobs or for personal reasons.
Rajkumar, station manager of Khajuraho railway station, said the exodus is exceptionally high this year with roughly 1,500 to 2,000 people travelling to Delhi and other cities every day. He said majority of them were leaving their villages in search of better livelihood as agriculture is not an option this year.
"The people are moving out lock, stock and barrel with their entire families as there is not enough water even to drink," he said. From the nearby and smaller Harpalpur railway station an average of 700-800 people are boarding trains for Delhi and other northern Indian cities on daily basis. Station manager RK Sharma said there has been a sudden rush as rabi sowing has not been very encouraging in absence of any rains in the last two months.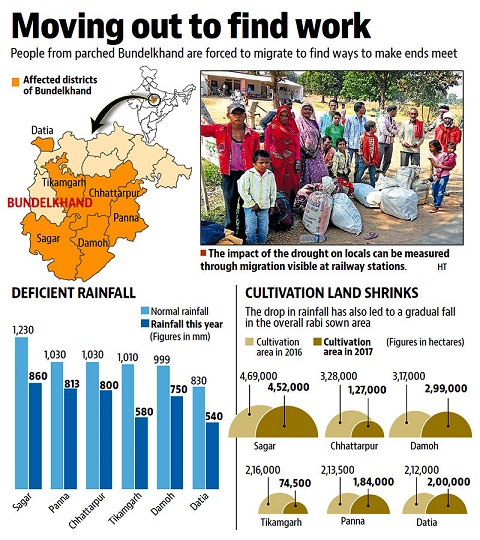 Railway officials have noticed similar migration trends at other railway stations in Bundelkhand region such as Sagar, Damoh and Tikamgarh. They also claimed that people from drought-hit Panna district are going to railway stations in the neighbouring districts of Uttar Pradesh and are also boarding buses for the National Capital and other big cities. A distressed farmer Jagdish Sahu, who with his family and other villagers was taking a train from Khajuraho railway station to Delhi, said he has no other option but to abandon his village.
"I used to take some land on contract but due to scanty rainfall we could not sow rabi crop. So we are going to Delhi to find work as a labourer," he said. "Getting water for drinking is also getting difficult here". Another villager Pappu Adivasi, who was taking a train from Chhatarpur district with several other youth of his village, said nearly 60% of the young guys in his village have already shifted to big cities looking for work. "We didn't get work under MGNREGA (Mahatma Gandhi National Rural Employment Guarantee Act) , which the government assured of providing in these hard times,"he said.
Although Tikamgarh district collector Abhijit Agarwal confirmed the ongoing migration, he told Hindustan Times that it was not an alarming trend. However, his claim was refuted by Gyanendra Tiwari of a local NGO Samarthan, who said people are leaving in large numbers as even local dams and wells dug under the Central government funded Bundelkhand package have dried up. "We are working for providing jobs through MGNREGA. Also, public distribution system is being tightened so that eligible people get their ration on time," Aggarwal said, adding that a report being sent to the state government for carrying out relief work in drought-hit areas effectively. Arun Pandey, principal secretary revenue said the government has constituted a state-level drought monitoring committee and crop weather watch group .
Courtesy : Hindustan Times