Bundelkhand: Everybody Loves a Good Pre-Election Drought
---
Bundelkhand: Everybody Loves a Good Pre-Election Drought
---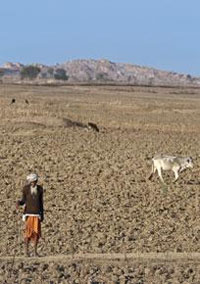 There is a barren land where Amaan Chamar, 65 years old, had a field. Last year was not good, but he still managed to get some wheat growing. Now, when it is time for the rabi crop, he has not sown anything because it is pointless. Farmers richer than him have got some seeds sown on their own tracts of land, but no one is sure whether anything will grow. There is no water. Local ponds, which supplied water, have gone dry and bore wells are too expensive for farmers like him.
Chamar is from Rajpura village, 60 km east of the city of Jhansi. The region is Bundelkhand, blighted by three consecutive droughts, hailstorms and unseasonal rains, and facing a severe agrarian crisis. Besides Jhansi, Lalitpur, Mahoba, Banda, Jalaun, Hamirpur and Chitrakoot form the Uttar Pradesh part of the Bundelkhand region. People here are impoverished, and the drought is killing them. In the last one year, more than 400 farmers have committed suicide in the area. The official tally from April 2003 to June 2015 stands at 3,500.
Chamar didn't have to kill himself. He says his whole family would have just starved to death if his son, who used to help him in farming, had not left for Noida to work as a daily wage labourer. That still doesn't keep his livestock from dying because without any crops, fodder has to be purchased and its prices have skyrocketed in recent times. In his village, you don't see many young men. They have all left to work as labourers in nearby Jhansi, the state capital Lucknow or Delhi-NCR. A survey by a local NGO Pravas estimates that 6.2 millionpeople have left Bundelkhand in the last 10 years. "Every day, around 6,000 people, mostly farmers, migrate. You go and check the construction sites in Delhi NCR. Every third labourer is from Bundelkhand," says Ashish Sagar, a social activist from Banda.
Uttar Pradesh is going to have Assembly elections next year, and with 26 constituencies spread over seven districts in Bundelkhand, the part that is in the state is important. Bundelkhand's six other districts are in Madhya Pradesh. The farm crisis is hence already a debating point for all political parties, with accusations and counter accusations, and leaders parachuting in to look suitably concerned as they hear tales of human misery. On the ground, however, nothing changes—if history is any indication.
January saw Congress Vice-President Rahul Gandhi and UP Chief Minister Akhilesh Yadav come visiting. This was Gandhi's seventh visit. The first was in 2008, when he was instrumental in the then Manmohan Singh Government announcing a special package of Rs 7,266 crore for Bundelkhand's development, of which the UP districts would get Rs 3,760 crore. Three years later, he visited the region again to capitalise on the package for the 2012 Assembly polls, but the Congress won just four of the 26 seats. On 23 January this year, he took a 7-km padayatra starting from Mahoba district. As soon as his tour programme was announced in early January, the Samajwadi Party, which rules the state, sent chief secretary Alok Ranjan on a two-day trip to Mahoba and Banda to take stock of development work there. Based on the feedback, Akhilesh Yadav too made a visit on 27 January. The BJP UP legislature party leader Suresh Khanna came too.
The people of Bundelkhand are neither surprised nor find any hope in such visits. Shivnarayan Parihar, a leader of farmers in Mauranipur, says, "It happens every time before elections. They come, make some announcement and leave. Just roam around and you would see what has changed here." Of the Rs 7,266 crore package, Rs 4,700 crore was to be spent on water management, development and restoration of water sources, but it seems to have made no difference.
We go east on the National Highway from Jhansi to Banda and the land looks parched like a desert, except for stray mustard and arhar fields. "Even these are withering and don't grow fully, making it only useful for cattle fodder," says Parihar. We take a left at Bangra block and after six kilometres, a dusty road leads to Pachwara, where there is a famous man- made lake and a dam.
Bundelkhand had a tradition of creating such lakes and ponds to harvest water, especially during the reign of Chandela and Bundela kings. These ponds added to the beauty of the landscape and served as a source of livelihood for many families. When the rains failed, these ponds could be used for irrigation, but that is no longer the case. A recent RTI reply from the UP government says that around 4,020 ponds have disappeared in Bundelkhand in the last ten years. The highest disappearances, around 2,500, are in Jhansi district and the reason is said to be the land mafia that used it for real estate development.
The 2009 Bundelkhand package laid special emphasis on ponds and a number of projects were announced to restore and build ponds. Pachwara Dam was one of the projects which got a budget of Rs 20 crore. The lake was further dug up to increase its water-storage capacity so that it would irrigate fields of nearby villages. But, except for some patches of water, the lake bed is now dry where, in some twisted irony, local farmers have sown wheat seeds. "For the last three years, there has not been enough water here to get to our farms," says Devendra Srivastava, a farmer from Pachwara village.
Instead, their problems only increased because of the restoration work. The mud and the soil dug up were spread in nearby fields, making it difficult for farming. Of Srivastava's 20 bighas of land, 18 had mud spread on them, leaving him with just 2 bighas for farming. "We opposed it initially, but the people involved in the restoration work were powerful. We don't have the money to remove the mud and make the land available for agriculture again," he says. From a landlord, Srivastava has become a labourer working for other farmers to feed a family of six. "It hurts to work in someone else's field from where I can see my own land. I just want to get out of this place," he says, and starts weeping.
We travel 70 km east to reach Choudhary Charan Singh Rasin Dam Project in Chitrakoot district. Work on its construction started in 2009 and the dam is spread over a 2.6-km area with a water storage capacity of 16.25 million cubic metres. An ecopark on both sides of the dam was going to make this place a tourist spot. The dam's objective was to provide water to 22.8 km of newly constructed canals that would irrigate 1,494 hectare of rabi crop.
But things haven't gone as planned. The dam was supposed to be over a wide lake but the water level is not high enough to supply the canals. So the fisheries department decided to use it for fish farming. An irrigation project built at a cost of over Rs 80 crore is now a fishpond; even the ecopark is in shambles. A labourer in the park points to a place where there should have been a Buddha statue. "Children playing in the park broke it and took it away," he says, just as we see one young boy walking away with the hand of the statue.
Courtesy: Openthemagazine