KALPI Tourism : Discover unknown part of India, Experience Bundelkhand
KALPI Tourism : Discover unknown part of India, Experience Bundelkhand
KALPRIYA NAGARI
Kalpi is a small town located between Kanpur and Jhansi. It is in the Jalaun District of Uttar Pradesh State of India. Kalpi has a railway station and is on national highway 25.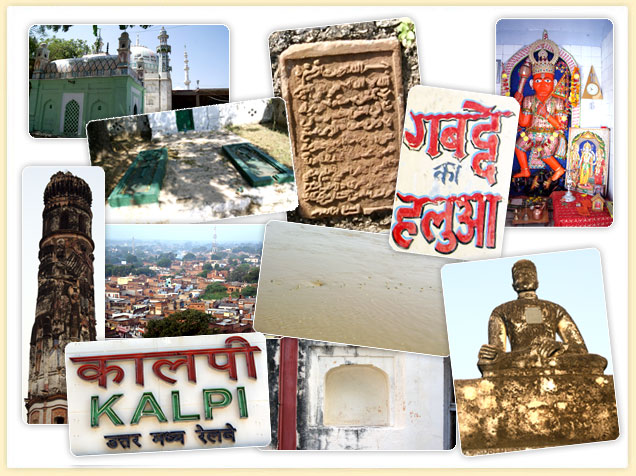 The Ancient World : Around c.45,000 BC human groups occupied ancient Kalpriyanagari. Field investigations into the sediments of the Yamuna river section between the rail and road bridge at kalpi proved human occupation. Besides variety of vertebrate faunal remains, namely elephant tusk, shoulder blade of elephant, molars of equus, bovids, bos etc. also some small pebble tools, some flakes & chips, as well as good number of bone tools with evidence of partial burning discovered here. The bones bore the deliberate human workmanship and blackening effect. Some scholars assigned the civilization c. 30,000 BC. Archaeological Department of Uttar Pradesh has recently discovered a prehistoric site at Kalpi.
Origin : At the end of 4th century King Vasudeva, a King from Kannauj, founded this city. It is believed to be known as Kalpriyanagari in ancient times. Over period of time the name of the city got abbreviated to Kalpi.Thousands of years ago it was the center of Hindu culture and Aryan civilization. Kalpi was also a prominent city in the Buddhist period. It was a stronghold of Chandelas in the 8th and 9th centuries AD.
Myth & Glory : The town is said to be protected by Brahma, Vishnu and Mahesh, the three chief Hindu Deities. It is located on the right bank of river Yamuna. The goddess of the river, also known as Yami. Yami is the daughter of Surya, the Sun God and is the sister of Yama, God of death. The Vishnu purana suggests that Shri Vyasa Deva (Krishna Dwaipayana Vyasa) or Ved Vyasa, son of Parashara and Satyavati and composer of Mahabharata was born 5000 years ago in an island on Yamuna at Kalpi. Uddalak, Vamiki Parasar and Vamdeo are other luminaries born here. Birbal the great courtier and minister of Akbar was also born in Kalpi.
Muslim Period: Kalpi fell into muslim hand in 1196 when Qutb-ud-din-Aibak, the viceroy of Muhammad Ghori conquered it. During subsequent Muslim period it played a significant part in the history of Central India. After Timur's invasion in the early 15th century Kalpi became independent for short while. After this Ibrahim Sah of Jaunpur sought to annexe it to Sharqi Sultanate. A counter attack by Mubarak Shah Sayyid of Delhi regained it. After Delhi-Jaunpur war it was seized by Husang Shah Ghuri of Malwa. With fall of Sharqi sultanate to Bahlul Lodi; Kalpi reverted to Delhi Sultanate. Bahlul appointed Qutb Khan Lodi as Governor. Subsequently it fell into Mughal hands and under Akbar served as headquarter of a sarkar and a copper mint. The city is also known as 'Gate of the west'.
British Rule: Kalpi was captured by British in 1802 and it remained in British possession until India's independence. Kalpi was a part of Bundelkhand Agency, formed in 1811. It also housed headquarters of Bundelkhand agency from 1818 to 1824. During this period the political agent to Governor General of India was appointed and headquartered in Kalpi. The British East India Company made it one of their principal stations for providing commercial investment.
Kalpi War: Maharani Laxmi Bai, Nanaroa, Tatya Tope and their followers fought against the British in Kalpi. When the news of the rising at Kanpur reached Kalpi, the men of 53 Native Infantry deserted their Officers. Many Europeans were murdered. In may 1858 the freedom fighters were finally defeated by Sir Huge Rose (Lord Strathnairm) and his Army. Thousands of Indians were hanged and many fled to Kanpur. Pre 1857 population of Kalpi was 1,00,000 whereas post 1857 census shows only 9,000. The battle of Kalpi was a fine example of Hugh Rose's handling of troops in which he resorted to a brilliant manoeuvre which greatly reduced his casualties. The British casualties in this battle were just 31 killed and 57 wounded.
Present Day: Kalpi participated in the freedom movement under Dewan Shatrughan Singh. It is one of the prominent cities of Bundelkhand today and is centre of local trade in grain, ghee and cotton. Kalpi is declared as industrial belt for hand made paper industry by Government of India.
Kalpi Fort: The fort of Kalpi stands on clay cliffs overlooking river Yamuna. It is walled on three sides and defended on fourth sides by the cliffs and river. Kalpi fort is a rectangular structure with a dome on top and is 120 feet above riverbed. The wall of the fort is 9 feet thick. Kalpi fort was a stronghold of Chandelas. It was also important position of Delhi Sultans and line of communications along Yamuna. During Marathas the fort served as Treasury. At present the fort is used as rest house of Forest Department.
Satmathia: After Mehmood Khan Lodhi killed Lahariya king Srichand his seven queens burned themselves at the pyre (Sati). In their memory seven small temples or 'Mathis' were built on the bank of river Yamuna on a mound. These temples are known as Satmathia. The place is inside dense ravine jungle and very difficult to access by road. But if one sail downstream Yamuna the access will be much easier. The mound on which the seven temples are constructed is around 100 feet above riverbed. The scenic beauty of river,forest and behad are fantastic from here.
Chaurasi Gumbad: Chaurasi Gumbad (84 domes) is a square nine domed structure in a walled courtyard with two graves under central dome. The probable date assigned to this gumbad late 15th or early 16th century. This Islamic architecture is believed to be a tomb of one of the Lodi Sultan. It has 84 door arches. Built of blocks of rubble the whole building is divided into square spaces as in a chessboard, by eight lines of pillars that are linked by arches and topped by a flat roof. The building has a dome of a height of 60 feet. Jaunpuri motifs can be seen in the wall of the Gumbad. It is located to the west of old Kalpi along with NH 25 towards Orai.
Medieval Tombs & Maszids: Behind Chaurasi Gumbad there are numbers of old muslim tombs (more than 50). These huge structures belong to Sayyd and Lodi Dynasty. The Sayyd and Lodis did not have a great treasury and so the tombs constructed mirrored the broken spirit of the rulers of both the dynasties. These are isolated structures without any surrounding wall and if they were originally contained walls, these have since disappeared. At the entrance of the graveyard there exists a door named Rustam Durwaja. The character and treatment of these tombs indicate the fact that Kalpi attained a separate style of expressiveness through the etching, cutting and structuring of the stones. The principal remains are the tombs of Madar Sahib, Ghafur Zanjani, Chol Bibi and Bahadur Shahid. Most of the tombs are of around 50-60 feet high and are in extreme bad shape. The Karbala located in an area of around 10 sq km is worth visiting. Besides the large tombs it houses numerous other graves. Khanka-A-Mohhamadia is an important Durgah in Kalpi. Sahi Jama Maszid is another important place. There are many such Maszids. Muslims are important part of the life of Kalpi.
Shree Durwaza: It is a huge gate present in Kalpi.During the time of Mehmood Khan Lodi Kalpi was ruled by a Lahariya King, Srichand, who was killed by Mehmood Khan and buried his head underneath Shree Durwaza.
Chota Gumbad: The gumbad is a small dome building carried on six pillars. It is located in the same complex along with Inspection Bunglow.
Closed Cemetry: Retaining wall and graves of British closed cemetery can still be found. The cemetery is declared as site of National Importance. One of the inscriptions read like this- "To the memory of Thomas Moodie, Esquire, officiating Political Agent in Bundelkhand, who departed this life on April 27th, 1824, aged 33 years." [This Officer joined British Army in 1810]
Lanka Tower: Lanka Meenar is a 225 ft tall tower built by Shree Mathura Prasad Nigam, Advocate in 1885. The materials used to construct this tower was Kankar ka Chuna, Cowries, Urd ki Dal and Kesar. The tower is having 175 staircases. On a clear day visibility from top of the tower is around 15 km. The tower is ornamented with scenes of Ramayana. On the courtyard of the Meenar there are huge figure of Kumbhakarna in lying posture, Army of Ravan, Meghnad and other characters associated with Ramleela. Dhanuskothi and a huge snake also adorn the courtyard. Behind the meenar one market is known as Lanka Bazar.
City of Temples: Kalpi is endowed with many temples. Prominent of those is Ved Vyas temple which was built by Shri Sudhindra Tittha Swamiji and his disciples. The temple was consecrated by Shri Swamiji on 29th June 2001. Ved Vyas is regarded as Adi Guru to all the sages, saints and sanyasis. Temple of Shri Shri 1008 Shri Mahmandeleswar Jai Ram Das Ji Maharaj (Barasthan) is also worth visiting. 1008 is a holy number. 1008 rounds of any chanting resonate with particular vibration in us. Each other temple has its own story to tell.
The Ghats: Kalpi on the bank of Yamuna has dotted with many ghats. Prominent of those are Bihariji Ghat, Madhav Ghat and Radha Ghat. Small and big fish flock these ghats. Kartik poornima fair is organised at these ghats. The ghats are lit with diya (light) during Deepawali.
Ravine Forest: Kalpi has a reserved forest which is part of Kalpi range of Orai Division. The vegetation is classified as Ravine Thorn Forest. Ravine Thorn Forest consists of a mixture of small thorny trees. In some parts of the forest areas Babul Savannah vegetation also found.
Wildlife: Herbivores like Nilgai, Chowsingha and Carnivores like Wolf, Wild Dog, Hyenna and Jungle Cat are available in the forest. Peacock is a part of wildlife at Kalpi.
The Bridges: Kalpi has two important bridges on Yamuna River. The rail bridge is connecting Kanpur-Jhansi section. Kalpi has a railway station of same name on North Central Railway. The Yamuna road bridge is 767 mtr long with 7.5 mtr wide carriageway and 1.5 mtr wide footpath. The bridge is on NH 25. Strategically these are the two of the most important bridges of India and worth a walk.
Land of Dacoits: In the 1970s and 1980s Kalpi was one of the areas of Central India affected by dacoits. Phoolan Devi was famous among them.
Food: Gabbadde Ki Halwa is a famous sweet dish of Kalpi. It is prepared by boiling milk in a thick buttomed pan. The milk is boiled for 5 hours till it thickens. Then sugar is added and cooked for another 2 hours. Samnat (A homemade recipe made by grounding wheat) is mixed now and the food is cooked in low flame produced by wood fire for another 4 hours. It is ready to eat now.
Black Magic: The locals belief and practice that if you chant 'Bismillah', bath and drink water from a well located in the graveyards for continuous 40 days then you will get rid you of all ailments. Black Magic is still followed in this hinterland of Uttar Pradesh.
The Eclipse: Kalpi was one of the places in India wherefrom total solar eclipse on 24th October 1995 was witnessed by scientists from all over India owing to excellent observation conditions.

Handmade paper: Kalpi is one of the important hubs of handmade paper industry in India. A layman can very well confuse the paper sheet as leather when it is dried in the sun. Someone said that the hand made paper is as fine as you can eat.
Abode of Kalpriyanath: Kalopriyanath is the presiding Sun God of Kalpi. According to Puranas to get rid of his leprosy Lord Krishna's son Shamb erected a huge sun temple at Kalpi. Nothing is certain about the time of construction of this temple. Varahamihir, astrologer and astronomer of King Vikramaditya's court took his observations from this temple. The temple had a huge auditorium where the plays of 'Mahavircharitram', Malti Madhava' and 'Uttar Ramacharitram', composed by Sanskrit scholar Bhavabhuti were enacted. This temple also basked under reign of King Harshavardhana of Kannauj. The temple was so huge that around A.D 915 when Rashtrakuta king Indra the third invaded Kannauj his army including elephants, horses and soldiers stayed in the courtyard of this Sun Temple. The queens of Lahariya king Srichand became sati at this Sun temple.
Village Gulloli: The location of the Sun Temple of Kalpriyanath and Satmathia has been traced to a small Muslim village named Gulloli. The village is six kilometers downstream of Kalpi Bridge on the right bank of river Yamuna. The embankment (Ghat) of the Sun Temple is known as 'Suryaghat'. Here some decorated and sculptured rock pieces (Shilakhand) are found. The real Sun Temple with the deity is believed to be beneath the mound and the shilakhands are outer damaged walls of the temple. The village is constructed at present exactly over it. The existence of the Sun Temple of Kalpriyanath even today can not be ruled out in totality.
Courtesy: kalpriyanagari.com