(News) Government plans check dam network in Bundelkhand
Government plans check dam network in Bundelkhand
The Union ministry of water resources has initiated an extensive project for water management and recharging in the parched Bundelkhand region, starting with seven blocks chosen from each of its seven districts. At an expense of Rs 45 crore, a network of 178 check dams and wells would be set up in the region. The state government's department of minor irrigation - the nodal agency for implementation of the project in UP - says at least 40 to 45% of these check dams would be completed before the monsoon to tap rainwater.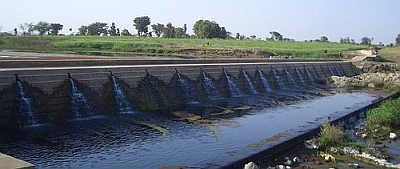 The project has been launched under the 'Repair, Restoration and Renovation (RRR) of Water Bodies' programme of the Union ministry. The chosen blocks are Naraini in Banda, Manikpur in Chitrakoot, Jaitpur in Mahoba, Maudaha in Hamirpur, Dakor in Jalaun, Bara in Lalitpur and Bangra in Jhansi.
"A team of experts visited the drought-affected areas and saw different community experiments done in these districts. It was found that while small check dams are proving to be a successful tool, traditional resources like ponds and wells can also play a significant role. Satellite mapping was also done by the Remote Sensing Application Centre, after which the project was designed," said an official of the Central Groundwater Board. "As soon as the funds are released, we will start work," said Jalaun DM Saurabh Babu.

Banda DM Ranjan Kumar, allotted the highest number of check dams , 48, said they wanted to finish at least 12 to 15 before July.
Courtesy: http://www.financialexpress.com