(News) Money lenders influencing ''Right to Vote'' in Bundelkhand
The electorate of Banda, Hamirpur, Jalaun and Jhansi constituencies under the impoverished Bundelkhand region are in a bewildered situation these days due to the 'interest-eaters'.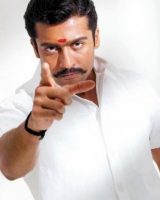 The money lenders have started dominating the borrowers to such an extent that they are now directing the latter to cast their franchise as per their wish.
The money lenders are blackmailing the borrowers to vote for their favourite party or clear the loan amount and interest together at once.
A large section of such voters were a baffled lot as they hesitate to approach the police, apprehending untoward consequences.
The domineering attitude of the interest-eaters have, however, created an uneasy situation for the borrowers in Banda, Hamirpur, Jalaun and Jhansi constituencies, which are going to polls under the second and third phase on April 23 and April 30.
Nearby 80 per cent denizens in the drought-hit Bundelkhand region were gripped under the clutches of the money lenders.
The money lenders are directing the borrowers as per the loan and interest amount was outstanding. While, the money lenders were using a tough tone with the poor and small borrowers, they were promising relief in interest amount to the big ones.
A money lender at Jailvara village in Mahoba had even passed a ''fatwa'' in favour of a candidate. Deputy District Election Officer of Mahoba, N N Lal, said they were yet to receive any complaint from the people on the fatwa.
The poverty and backwardness of the region had always forced the people, especially the farmers, to take loan from the money lenders.
The drought-hit region was also once tagged as the ''suicide point'' after a large number of farmers brought an end to their life over penury.
Even, the demand of separate Bundelkhand region by Uttar Pradesh Chief Minister Mayawati had locked-horns with the Congress General Secretary Rahul Gandhi at several occasions.
News Source: UNI