(News) Nanaji Deshmukh is no More
Nanaji Deshmukh is no More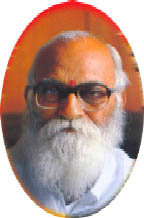 Rashtriya Swayamsevak Sangh veteran and former Rajya Sabha member Nanaji Deshmukh passed away at a private hospital in Chitrakoot on Saturday. He was 94 and was unwell for some time due to age-related ailments. He had refused to be taken to Delhi for treatment.
A Padma Vibhushan awardee, Deshmukh had donated his body for medical research. Born at Kadoli in Maharashtra's Parbhani district on October 11, 1916, Deskmukh had founded Deendayal Research Institute and was credited for exemplary work in the field of education, health and rural self-reliance.
He was also instrumental in carrying out social restructuring programme in over 500 villages of UP and MP.
When Jai Prakash Narayan gave the call for total revolution, he responded by giving total support to this movement. Nanaji was elected from Balrampur parliamentary constituency in Uttar Pradesh.
Nanaji was serving Deendayal Research Institute that he himself had established way back in 1969.
He had also established Chitrakoot Gramodya Vishwavidyalaya in Chitrakoot - India's first rural university - and was its first Chancellor. He was nominated to Rajya Sabha in 1999 in recognition of his services to the nation.
Courtesy:- Dailypioneer.com