(NEWS) Raja Bundela is all set to return to television after five years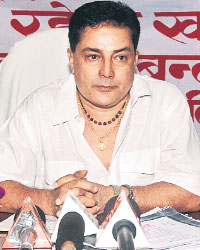 Raja Bundela is all set to return to television after five years. He was last seen in Lekh Tandon's show Kahih Der Na Ho Jaye on Zee TV. In all these years, Bundela was busy making his film Dil To Deewana Hai and was active in politics in his hometown Bundelkhand in Uttar Pradesh.
Bundela will play the character father-in-law, Vanraj Ranawat, to the lead actress Astha Chaudhary in Ratna Sinha's Babul Ka Angann Chootey Na. So what made him return to roots? Bundela says, "I was tired of the routine stuff and did not want to do the run-of-the-mill stuff. I have always been open to acting but wanted to do something meaningful. This offer from Sony TV was attractive and so I grabbed it. Otherwise daily soaps are very demanding and I don't want to go on the sets and fight for my make-up van and don't want to see self-centered actors fighting for their dialogues, character and costumes."
Bundela, who has just completed his film Dil To Deewana Hai will soon start work on another film, Na Munna Na. He says, "I also went to my hometown Bundelkhand and saw that people there were fighting for their rights. They wanted someone to represent them and I thought that I could do that."
Talking about his commitment towards the cause of common man, Bundela says, "We have only one life and I feel we should reach out to others and do something worthwhile for them. Here there's no money or fame but I get lot of satisfaction."
Courtesy: http://www.mumbaimirror.com