(NEWS) Uma Bharti files nomination from Tikamgarh
(NEWS) Uma Bharti files nomination from Tikamgarh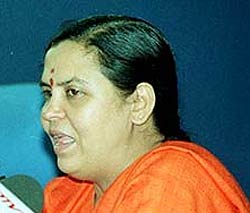 Tikamgarh (Madhya Pradesh): Bhartiya Janshakti Party (BJS) national president Uma Bharti has finally decided to be part of the race.
She today filed the nomination for the November 27 Madhya Pradesh Assembly polls from her home district Tikamgarh seat.
According to the 'firebrand' leader, "I have decided to fight the elections for the people of Tikamgarh".
Bharti will take on BJP's controversial minister Akhand Pratap Singh Yadav and Congress Party's Yadvendra Singh for the Tikamgarh seat.
If Akhand Pratap wins, he might be a trouble for the Chief Minister, Shivraj Singh Chauhan. But in case he loses, it will be a "shame" for the party to lose out to Uma Bharti.
So the fight becomes extremely interesting for the BJP no matter it loses or wins the game.
Courtesy: Sify News