(News) Bundelkhad : Women have become the change-makers
Bundelkhand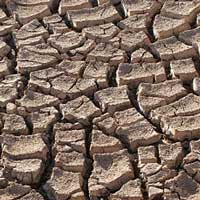 Jalaun (Uttar Pradesh) : Travel to Jalaun, Lalitpur and Hamirpur, three of the seven districts that make up Uttar Pradesh's extremely backward Bundelkhand region, and this is the harsh reality that unfolds for its women: They always play second fiddle to men, their caste determines their social status, they are largely illiterate and their entire existence is confined to the four walls of the home.
If they do to step out, it is either to make endless trips to fetch water from a distant source or to work as agricultural labour to supplement their meagre household incomes.
But despite the tough odds, a few determined women have become the change-makers for their communities. They are part of a unique sisterhood called Jal Sahelis, or water friends, created in 96 villages of these three districts.
Today, Ramvati, Leelavati, Meera and Prema are part of a group of 140 Jal Sahelis, who are setting the agenda for the use and conservation of water, a precious natural resource that dominates the life of the average Bundelkhandi woman.
These women are part of the Paani Panchayat, an all-woman informal body created at the village-level by the Orai-based NGO, Parmarth Samaj Sevi Santhan, as part of a European Union supported project, 'Establishing Women's First Right to Water Resources'. The project aims to provide women with the necessary knowledge, authority and legitimacy to negotiate on issues of water access at the community level.
Mallahanpura village in Jalaun district lies in a region that until just a decade ago was infamous for being the playground of dreaded Chambal dacoits. For women like Meera and Prema Devi life was not only rife with danger, they also had to bear the burden of collecting clean drinking water for their families, spending at least six hours a day on the task. Things started to look up for them when last year Mamta, a Parmarth field worker, mooted the idea of the Paani Panchayat and Mallahanpura got its 20 member Paani Panchayat, with Prema and Meera appointed as Jal Sahelis.
Anil Tiwari, Parmarth's project coordinator, explains the work of the Jal Sahelis, "Whereas the Paani Panchayat sits once a month to address water related issues, Jal Sahelis like Prema and Meera meet up with women through the month talking about water distribution, its proper storage and conservation. Moreover, as they are articulate and popular within the community, they go around the village gathering information on what are the water sources that are operational, what are the gaps in distribution, whether any community has an unfair advantage, and so on. During meetings of the Paani Panchayat, they present their findings and propose discussions on water and sanitation."
Sure enough, Prema has been busy. She reveals, "There are around 30 hand pumps in Mallahanpura. Of these, 10-odd had been out of order for long. I informed the Paani Panchayat about it and together we pressurised the pradhan, block development officer (BDO) and even the sub-divisional magistrate (SDM) to take action. Today, most of the hand pumps are functional." Adds Meera, "Another issue on our agenda is building toilets. Of the 270 homes here, only 35 have latrines. We have already approached the pradhan and he has promised to sanction money under the Nirmal Gram Abhiyan."
Courtesy: India Water Review