(News) Bundelkhand and the truth of 'ghas ki roti'
---
Bundelkhand and the truth of 'ghas ki roti'
---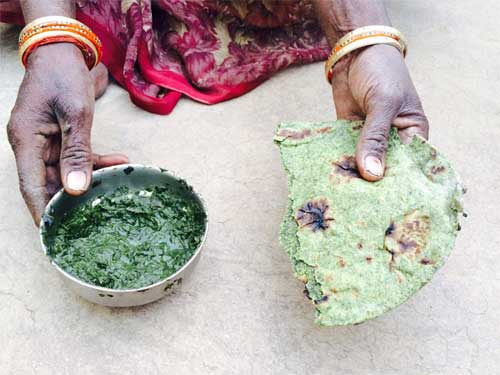 It is being claimed that people are eating ghas ki roti in region and names of two so called grasses are being put forward. But one must need to know that these are not the grasses but the traditional small millets of Bundelkhand.
In the last week of November, psephologist-turned-politician-turned-social activist Yogendra Yadav released a survey report of agrarian crisis in Bundelkhand region, an area spread in 13 districts of Uttar Pradesh and Madhya Pradesh.
The survey was conducted mainly in three districts- Jhansi, Lalitpur and Jaluan in Uttar Pradesh.
After the report came out, almost every prominent media organisation published survey findings and most of the news items have headlines that said people in Bundelkhand are forced to eat Ghas ki Roti (grass bread). The survey claimed that 17% people are feeding their families ghas ki roti.
As a person born and brought up in Bundelkhand and also intensely covering the area as a correspondent for India Today for the last five years, it was a shocking revelation for me. So, I tried to dig in more to differentiate between the truth and the myth.
Before talking about ghas ki roti, some facts must be kept in mind. People of Bundelkhand region are facing drought for the last two years. More than 70 people have died due to farm crisis in the last kharif season and an equal number of people have died in the last Rabi season, only in the Uttar Pradesh part of Bundelkhand.
The crisis persists in the Madhya Pradesh part of the region as well. People, especially from the backward sections of the society, have been forced to migrate to other parts of the country in search of a livelihood, and more importantly - food.
Most of the people are migrating to Delhi and its surrounding areas. A top official of the U P irrigation department has confirmed to India Today that the water level in major dams is so low that they don't have water for rabi season and they are on the verge of facing drinking water crisis in coming days, if rain does not come for rescue.
So, almost every agricultural and socio-economic indicator is clearly adverse for Bundelkhand.
It is being claimed that people are eating ghas ki roti in region and names of two so called grasses are being put forward. The first one is FIKAR and second one is SAMAI. But one must need to know that these are not the grasses but the traditional small millets of Bundelkhand, specially of Lalitpur district.
Shiv Narayan Singh Parihar, Bundelkhand President of Bhartiya Kisan Union (Bhanu group) said, ''People are disturbed to see that some so called experts from Delhi are making mockery of our pain. These are our traditional millets and traditionally preserved to fight the draught like situation though these are not so frequently used now a days. We are in distress but no one is eating ghas ki roti.''
Parihar is fighting against farmers' suicides for the last four years and played a key role to facilitate maximum compensation to 31 farmers suicide cases in the last Rabi season in Jhansi district.
Not only these two millets but people of Bundelkhand were fully dependent on small millets like KODON, SAWA, KUTAKI, RAGI, MANDWA, before the introduction of high yielding varieties of wheat.
Subedar Major (Ret) R S Purohit (75), of Talbehat town of Lalitpur, said, "Till 1960s-70s we were depended on these small millets. These are Kharif crops and Fikar and Samai were seeded as well as grow on its own from ground. After introduction of wheat these millets disappeared from our diet, though I miss it."
Today, wheat roti is a part of staple diet in Bundelkhand, but it was not the case some four decades back. People in those days were depended on millets as these can be produced with less water and thus are suited to the soil of Bundelkhand.
The fact can be confirmed from any senior citizen in Bundelkhand, that FIKAR and SAMAI were used to be their traditional food, which are also rich in minerals. These millets also have an special quality that these can remain intact for three to four years without much care, while wheat needs proper protection. Thus these millets used to be kept for longer time to fight with any possible draught.
To get the exact data one can see the district gazetteer of Jhansi district of the year 1965, at that time Lalitpur was a subdivision of Jhansi. The data clearly shows that in Bundelkhand, Lalitpur was particularly more dependent on small millets than other districts of the region. Chapter 4 of the Gazetteer on Agriculture and Irrigation has a sub section on small millets.
The gazetteer says, "These grains generally include mandwa or ragi, kodon (Paspanum scrobiculatum), sawan (common millet), kakun (Italian millet) and kutki (little millet) and have always covered a considerable area in kharif. They are mostly grown in the Lalitpur subdivision partly because of inferior red soil which is suited to the cultivation of such crops and partly because of the low standard of cultivation."
As the case of ghas ki roti is being highlighted in Lalitpur district particularly, so one must need to know something more about Lalitpur. The survey and media reports are showing the people eating so called grass roti are basically from SAHARIYA schedule tribe community in the region. They are the aborigines of the area and mostly live in Lalitpur area in UP side of Bundelkhand. There hamlets are situated mostly in outer part of the village an generally on some plateau. Most of sahariyas are landless workers, traditionally they survived on forest products, but now they are farm labourers. But they are the people who have best of the knowledge of forest produces and herbs and traditional food. So in the days of draught they are using their traditional knowledge to fight the situation and not asking anyone to help, though they need the help.
Courtesy: India Today