(News) Bundelkhand : Check Dams to help Water Conservation
Bundelkhand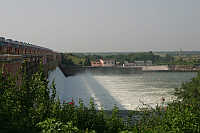 The state minor irrigation department is making efforts for conservation of water in the parched Bundelkhand area.
The water level of Bundelkhand is dropping each year. As many as 109 of the 124 hydrograph stations set up by the central groundwater board have registered a decline in the levels of ground water in the region.
As a part of the efforts initiated by the minor irrigation department, 196 check dams would be built in the area. This will be done as a part of ongoing project in which a total of 822 dams are to be raised. In 2010-11, 265 have been built while work for 149 is underway.
Courtesy : Times of India