(News) Bundelkhand may become solar power hub of North India
---
Bundelkhand may become solar power hub of North India
---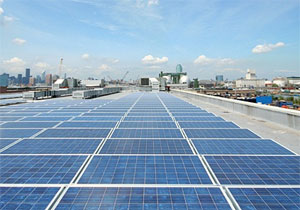 The Bundelkhand region in Uttar Pradesh could soon turn into a hub of solar energy projects as the Akhilesh Yadav Government plans to set up 1000 MW solar energy park in Jalaun.
The Government has already acquired 250 acre of land in Jalaun for this purpose. If everything goes well, the area will have many small solar power plants operating in that area, a senior official in Chief Ministers office said here today. The state cabinet had already approved 15 projects that will generate 215 MW of solar energy. The decision was taken after final bids were approved by the Department of Non-Conventional Energy Development Authority. The department is headed by Chief Minister himself. The Adani Group plans to set up 50 MW solar power plant which will come up in Jalaun. Others groups like Sukhveer Agro Energy Ltd, a Uttar Pradesh venture which also delves into farm sector, Essel Group of Zee, Sahasdhara Energy Pvt Ltd, Chennai, Sudhakara Infotech Pvt Ltd Hyderabad and other groups would set up solar power plants from 20 to 10 MW capacity each. These solar power plants will sell power to the state grid under 25 years power purchase agreement, the price of which would be decided.
These projects might take time to come but the Chief Minister will inaugurate a solar power plant of 50 MW in Jalaun later this week. This would be the first solar power plant in Jalaun. Earlier, a solar power project has come up in Mahoba. Soon all the districts have solar power projects, the official said.
In February, the Chief Minister had inaugurated a 10 MW solar power plant in Karkahkala village. UP got its first megawatt-capacity solar power in 2012 when the Chief Minister had inaugurated 2 MW plant in village Sandauli of Barabanki district.
Officials said that Adani group has shown its willingness to set up a 1,000 MW solar park in UP. Senior officials of the Adani Green Energy group had a meeting with the Chief Minister. The Adani group wants to set up unit in eastern UP somewhere near Varanasi.
State governments willingness to go ahead with solar power energy generation could be gauged from the fact that a proposal is on the anvil to set up Solar Power Corporation. The corporation, working like UP Power Corporation Limited, will set up solar power plants in the staterun sector. It will set up three plants of 30 MW each in Allahabad, Mirzapur and Jhansi.
Courtesy: webindia123