(News) Bundelkhand wants Bharat Ratna for Dhyan Chand
Bundelkhand
Jhansi wants Bharat Ratna for Dhyan Chand
The recent proposal by the Union sports ministry nominating hockey wizard Dhyan Chand as its nominee for the Bharat Ratna has been welcomed by the people of Jhansi and sports lovers specially in the field of hockey which was once a synonymous with the country's name in the international arena.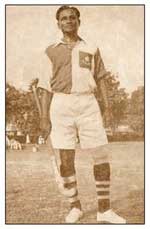 Under Dhyan Chand's leadership India won gold in three consecutive Olympics of 1928 (Amsterdam), 1932 (Los Angeles) and 1936 (Berlin). Dhayan Chand is also accredited with not losing a single official match he played, which is a record in itself.
Many people are of the opinion that this is a correct and apt decision since Dhyan Chand's contribution has been tremendous in the field of sports. He brought laurels to the country at a time when India had the least resources and was had hardly made an impact in the field of sports.
Back in Jhansi, his native place, people seem to be ecstatic and expect the government to confirm Bharat Ratna on his name only. Dr Meena Dhyanchand, daughter-in-law of Dhyan Chand, feels that Jhansi has always been remembered because of Rani Laxmibai and Dadda (as Dhyan Chand is commonly known) and today if he is conferred with Bharat Ratna, it will be an honour for the people of this city.
Afaq Ahmad, a railway employee and a sportsman, says that in the pre-independent India when reasons for being happy were very few especially in small towns like Jhansi, Dhyan Chand brought a smile to thousands of people when he won a gold medal in Berlin and was praised by Hitler himself.
On the other hand, Hemant Dubey, an avid sports fan and part of the delegation which had met the sports minister to pursue Dhyan Chand for award says that by confirming Bharat Ratna, not only Dadda will get his due but the game which is presently in a poor shape will also get a boost. "Today, sports has lost its passion and has been merely reduced to a profession".
Courtesy : Times of India