(News) Chitrakoot police begin process to strip 'godman' of his arms licence
Chitrakoot police begin process to strip 'godman' of his arms licence
Self-styled 'godman' Swami Shiv Murat Dwivedi alias Swami Bhimanandji Maharaj alias Swami Ichchadhari Sant, who was arrested in Delhi on February 26 for allegedly running a sex racket, is all set to be stripped of his arms licence. The Chitrakoot police today began proceedings to cancel his licence that was issued by former district magistrate Hridesh Kumar.
"Taking cognizance of media reports and his arrest by the Delhi Police, I have initiated the cancellation proceedings. Following an inquiry, it came to light that the Manikpur police had ignored two cases against him and made recommendations for the licence. I have sent a report to the district magistrate to cancel his licence," said SP Veer Bahadur Singh. Singh added that three licences had been issued to Swami and his family members, including his father, Bachcha Lal, and brother Sanjay Murat Dwivedi.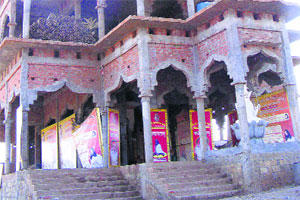 "The inquiry is on against his father and brother who possess licences for a double barrel gun and rifle, respectively. If the police find their involvement in criminal cases, their licences too will be cancelled," he added. A team of five policemen from Delhi, led by Station House Officer of Saket, Bhrama Deo, has arrived in Chitrakoot to collect information about the 'godman'.
"We have started verifying the statements of the 'godman' and are inspecting his properties. We have also learnt that he was constructing a multi-crore temple at Chamrauha under Manikpur police station in Chitrakoot," said Deo. The police team has inspected the temple, the godman's ashram and the residence of his father. "After physical inspection, we will obtain the papers of his properties and assets from the district magistrate," said Deo.
Read more..
Courtesy: http://www.indianexpress.com