(News) CM of Madhya Pradesh laid the Irrigation project for Bundelkhand Region
Bundelkhand
Irrigation facility in Bundelkhand region to be expanded: CM
Chief Minister Shri Shivraj Singh Chouhan laid the foundation stone of Rs. 263.10 crore Pancham Nagar medium irrigation project at tahsil headquarters Batiyagarh in Damoh district today.
Chief Minister Shri Chouhan said that we have started process of this project for irrigating areas under 57 villages in Bundelkhand region at present. The State Government will complete a number of such projects. Government will relent only every inch of land in Bundelkhand is irrigated. He said that a number of initiatives have been taken to reduce cost of agriculture production to benefit farmers.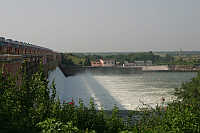 Loans for seeds and fertilisers have been provided farmers at zero percent interest rate. During previous years, irrigation facility was only 7.5 lakh hectare in the state, which has now been increased to 24 lakh hectare. Besides, efforts have also been made to increase irrigation capacity through Kapildhara and Balram Talaab schemes.
The Chief Minister said that State Government is with all sections of society but first and foremost with the poor.
Shri Chouhan said that apart from providing food grains to the poor, wheat procurement price has been increased to Rs. 1500 per quintal by giving Rs. 150 per quintal bonus. Work is progressing fast for feeder separation to ensure 24X7 power supply in all villages in the state from June. Mukhyamantri Yuva Swarozgar Yojana has been launched to free youths from unemployment.
Courtesy : Central Chronicle