(News) Famine-like situation in Bundelkhand
---
Famine-like situation in Bundelkhand
---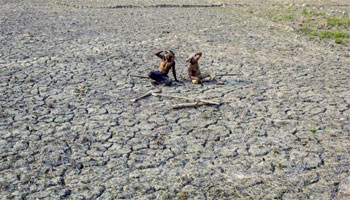 household survey by the Yogendra Yadav-led Swaraj Abhiyan in Uttar Pradesh's Bundelkhand region has found that over a third of households had not been able to consume any dal over the previous month, half had eaten no vegetables for over 10 days. Nearly one in five had been forced to eat rotis made of grass, the survey found.
India faced only its second consecutive drought this year, with Uttar Pradesh experiencing the highest rainfall deficit. Bundelkhand, the impoverished district, is experiencing its third consecutive drought, and the rabi crop was also damaged by a hailstorm.
Swaraj Abhiyan volunteers surveyed 807 households across all of Bundelkhand's tehsils, and conducted face-to-face interviews at the respondent's home. The survey was conducted between October 27 and November 9 and was directed by Mr. Yadav with help from economists Jean Dreze and Reetika Khera.
Crop losses
Over 60 per cent of all households reported crop losses, depending upon the crop they were growing, the survey found. The largest losses were reported for soyabean, where 96 per cent of all households suffered.
Courtesy: The Hindu