(News) Grain Bank system preventing Hunger Deaths in Bundelkhand
National Food Security Act
The National Food Security Act has been enacted only now, but many villages in drought prone Bundelkhand regions of Uttar Pradesh and Madhya Pradesh have had their 'internal food security acts' in place since long in the form of grain banks — an insurance against hunger.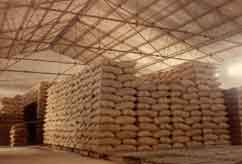 The government has nothing to do 'with this mechanism'. And no village with such a bank has ever reported hunger or hunger death.
Take the case of Jharokhan Paswan, 77.
Though her husband Dhaniram Paswan died of hunger two years ago (before a grain bank was set up) at Chandauli village in Charkhari tehsil of Mahoba district, she no longer goes hungry.
Living all by herself in a mud hut, Jharokhan now gets her supply of grains from the village grain bank.
"Bhukho mar gayo (husband died of hunger)," recalls Jharokhan.
Paana Bai Vishwakarma, 62, chairperson of the Chandauli Grain Bank, says, "One hunger death and five suicides in our village in three years before October 2009 as a fallout of droughts spurred us into opening this grain bank."
The grain bank system has become so effective since its advent in 2008 (post the worst drought in the region in a decade), that their number has grown to over 100 in the entire region that straddles the two states of UP and MP. Twentyfive villages in Mahoba, 20 in Jalaun, 23 in Lalitpur, 14 in Hamirpur, 13 in Banda, five in Chitrakoot and 13 in Tikamgarh have grain banks.
The movement is spreading to other districts and within the districts as well.
A grain bank is established by donation of grains by villagers. Outsiders too may contribute to the bank but no grain disbursement is done to any person outside the village. Once the bank has over a quintal of grain, it starts operations.
There's proper account keeping at every bank which has a register. There are columns for the serial number, date, debit, credit and balance in the account book. After every withdrawal or deposit, a person has to put his/her thumb impression against the transaction.
Courtesy : Hindustan Times