(News) Madhya Pradesh High Court orders sites Study linked with Lord Ram in Chitrakoot
---
Madhya Pradesh High Court orders sites Study linked with Lord Ram in Chitrakoot
---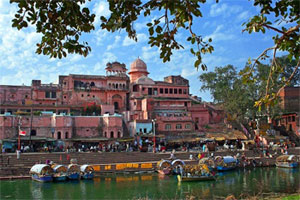 The Madhya Pradesh High Court has asked the state archaeology department to study certain sites in Chitrakoot area of Satna district where according to the Hindu mythology Lord Ram spent his 14-year exile and decide if they should be preserved.
A division Bench of Chief Justice A M Khanwilkar and Justice J K Maheshwari passed the order on August 17 in response to a petition by Nityanand Mishra.
Mr Mishra, citing references in Ramcharit Manas and Ramayana, has demanded that certain places in Satna district are associated with Ram's exile and they be conserved as archaeological sites.
On November 21, 2007, the Madhya Pradesh Chief Minister had announced that the sites associated with Lord Ram will be preserved and developed, which underlined their significance, says the petition.
Courtesy: The Hindi