(News) Mahendraa Modi: water conservation cop of Bundelkhand
---
Mahendraa Modi: water conservation cop of Bundelkhand
---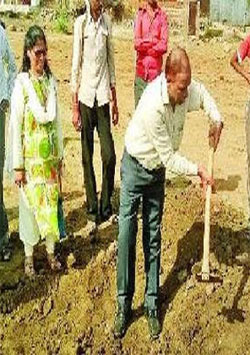 Meet 'waterman cop' Mahendraa Modi, an additional director general of police, who was instrumental in cracking some very serious cases. But it is not his investigation acumen that made him famous. His passion for water conservation makes him different from other cops. Modi's efforts have brought a new ray of hope for the parched land of Bundelkhand.
Taking the issue of water conservation seriously, he has created his own punch line 'Eai mere pyare watan, tuj pe jal kurban (O my dear country the whole water is devoted to you)'. He visits places all over the country, educating people how to conserve water. And all this he does from his own pocket. He travels only on holidays so that his official work does not hampers.
This 1986 batch IPS officer developed this passion during his posting in Jhansi as DIG 2008. He recalls in one of his visits to villages, he saw people fighting for water. On one such visit, he was told by the villagers that they have police for protection, but no water to drink.
"This jolted my conscience and I decided to do something and started reading on this topic in my free time at night," he recalled. From here, he started developing theoretical models on how to harvest rainwater and recharge groundwater at no extra cost.
In due course of time, he has developed over a dozen models mainly based on rooftop water harvesting and through digging trenches in farms, near wells and water bodies.
Putting his models differently from the conventional ones, he claims that while the conventional ones consume 4 to 11% of land, his models require 0.8% to 1.2% land.
He is confident that by adopting such techniques in this region, wells and water bodies which have gone dry, would recharge with an effectiveness of 400%. He has already adopted a few villages. One of them is Kanchanpur. He had initiated some pilot projects two months ago and waiting for positive results this monsoon.
Ramniwas Rajput, a farmer having 7.5 acres of land, said that the entire area is reeling under water shortage for a long time. "The government had made a check dam which never works. But now hope is blooming with this new model of Modiji, better results are expected in future," he added.
In nearby Ambabay village, a trench was dug near a 24 ft deep dry well to store rain water in 2008. It started recharging and after 16 months, the well had regained 17 ft of water. Till date, the well is in a working condition. "We can also save electricity in this process. On an average, 40 to 120 units of electricity is consumed per family per month in pumping water for daily needs, which can be saved," Modi said.
Courtesy: The Times of India