(News) MPHRC notice on mortgage of kids to Bundelkhand Officials.
MPHRC notice to Bundelkhand officials on mortgage of kids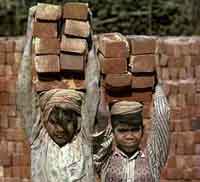 Children are mortgaged for a few bags of grains in Bundelkhand region of Madhya Pradesh. Last year around 26 children allegedly worked in houses of influential as servants in Rajapur village of Panna district against food grains.
The issue is in focus as Madhya Pradesh Human Rights Commission has taken cognizance of the matter and issued notices to Sagar divisional commissioner and Panna district collector on Saturday.
The officials have been directed to file a reply in seven days. The tribal dominated village in question have people mostly daily labourers.
Commission stated that a woman Shukkan Bai informed that his 13-year-old son, Rajkumar has been mortgaged for a year against six bags of food grains. He is working at Daulat Patel's house in Atrora village of Satna.
Another child of the same village, Mangal has also been mortgaged for six quintals of food grain.
Courtesy : Times of India