(News) New Airport Terminal at the Khajuraho Airport inaugurated
---
New Airport Terminal at the Khajuraho Airport inaugurated
---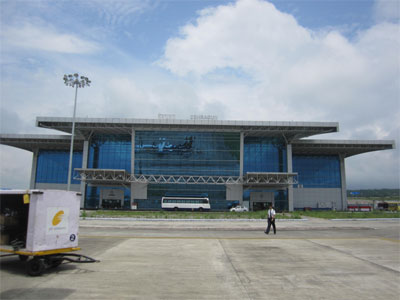 Civil Aviation Minister P. Ashok Gajapathi Raju on Saturday inaugurated a new terminal building at the Khajuraho Airport in Madhya Pradesh.
Tourism Minister Mahesh Sharma, Madhya Pradesh Chief Minister Shivraj Singh Chouhan, Chairman of Airports Authority of India R.K. Srivastava and other leaders and officials were present on the occasion.
The new facilities at the Khajuraho Airport will allow more flights to commence their services and help bring in more visitors. Though it continues to handle domestic flights, it has a capacity of handling 100 international flights in future.
Speaking at the occasion, Raju said, "We need to increase the international a bit. Now, if that happens, next what step will be - once this thing falls in place - you need customs and immigration! Now, if customs start everywhere, what is happening in the country; when custom starts, the flight first start as a hopping flight."
"They hop from here to another place and then go out. When the load comes in, they come direct. So we hope the loads here will be developed. So everybody has to work together and we are doing that. We are working in that direction. Infact, aviation has shown a growth this year. And we hope to sustain it," he added.
The new terminal, constructed at a cost of Rs. 91 crores, is equipped with facilities of international standard. Made of glass and steel, the structure is equipped with state-of-the-art services and passenger facilities.
Courtesy: ANI News