(News) Now Bundelkhand is Facing the monsoon fury, Army's help sought
Bundelkhand hit by monsoon fury, Army's help sought to rescue villagers
After wreaking havoc in other parts of the country, the monsoon reached the region of Bundelkhand causing floods in what is considered among the driest parts of the country.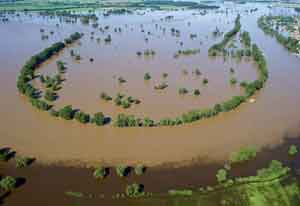 Taking note of swelling rivers, Chief Minister Shivraj Singh Chouhan directed the regional authorities to remain alert.
The district administration in Sagar had to take the help of Army personnel to rescue 37 persons marooned in a village on the bank of swollen Dhasan river.
"The water level in the river suddenly rose up taking the villager and the administration by surprise. The alert villagers immediately informed the adminstraion who swung into action taking help of the Army personnel and rescued 37 stranded persons to safety on Thursday night itself," said Shahghat tehsildar Sagar, Ashok Awasti.
According to him, seven persons saved themselves climbing over trees and 30 others took shelter in a temple.
Courtesy : Daily Bhaskar