(News) People in Mahoba started a `Padyatra' (march) to drum up awareness for a river
---
People in Mahoba started a `Padyatra' (march) to drum up awareness for a river
---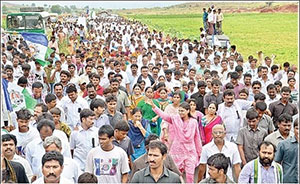 As a drought- like situation always looms over Bundelkhand region, hundreds of people of Mahoba have started a one of its kind `Padyatra' (march) to drum up awareness for a river which died a slow death over a period of time.
The marathon march, spanning over a 100 Kms, seeks to exhort people to come up for the cause of a historical river Chandrawal, which flowed ragingly hundreds of years ago. It is said that the river once stopped Rajput king Prithviraj Chauhan from capturing a Chandela princess, Chandrawati, after whom the river was later named.
The walkathon has started from a locality called Chando in Mahoba from where the river is believed to have originated and is scheduled to pass through 16 villages adjoining the river course. The awareness march, would, in all, cover four tehsils of Panwari, Jaidpur, Charkhari and Kabrai in Mahoba.
"The mass awareness about the river is urgent given not only its historical importance but also the fact that it could quench the thirst of parched Bundelkhand region," said Manoj Dixit, a social activist and one of the organizer of the march. "The fear of a drought like situation always looms over this region. It is therefore only through people's participation that a permanent solution can be found," he said.
Dixit said that during the march, residents of Mahoba will be exhorted to come forward for the cause of the river which dried up because of people apathy. At the same time the activists will be meeting the officials of the district administration to create mass awareness for the river which may also prove to be an irrigational boon in the hitherto drought prone region.
Chief development officer, Mahoba, Shiv Narain said that the district administration is supporting the 'Jan Jagran Abhiyan' to make people aware about the importance of the said river. "People have found attachment with the river here," he said, while speaking to TOI. "We are also holding workshop and awareness camp as well," he said.
Courtesy: The Times of India