(News) Rahul Gandhi accuses SP govt of neglecting Bundelkhand during Khat Sabha
---
(News) Rahul Gandhi accuses SP govt of neglecting Bundelkhand during Khat Sabha
---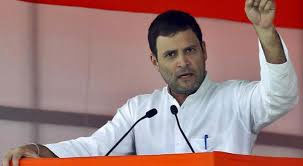 Rahul Gandhi today accused the Uttar Pradesh government of failure to lend support to improve situation in the Bundelkhand region, which has been battling continuous drought.
"The requirement in Bundelkhand is different and it needs to be addressed differently," he said at a 'khat sabha' here.
Rahul recalled that the Congress-led UPA government had given a special package to the area, but the SP government in Uttar Pradesh did not lend support to improve the situation in the region.
The Congress vice president was speaking in course of his 'Deoria to Dilli kisan yatra' in Bundelkhand region, which has been facing continuous drought.
Attacking the Narendra Modi-led Central government on the much-debated Land Acquisition Act, the Congress leader said the UPA government had brought the bill on land acquisition by talking to all stakeholders, which was in the interest of farmers.
"But Modi had tried to make it (the bill) ineffective to help those who are responsible for committing maximum corruption in the country," he said.
"When we were in the government, we talked about roads and education...," Rahul said, adding that though BJP and other parties raised questions on the issue of loan waiver of farmers, the UPA government went ahead in announcing Rs 60,000 crore package to provide relief to the farming community by waiving loans of small and marginal farmers.
Courtesy: Press Trust of India