(News) Rs. 37 crore spent on development of Vindhya region's tourism destinations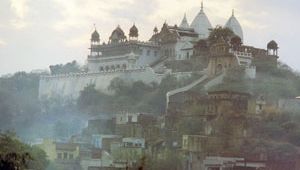 Special attention is being given to various tourist destinations of the state with a view to attracting both Indian and foreigner tourists. A sum of Rs. 36 crore 99 lakh has been spent on the development of tourism destinations of Vindhya region including Maihar, which is religious tourism place. A concerted eight crore scheme has also been chalked out for the all-round development of Vindhya Paripath.
The maximum amount of Rs. 24 crore was spent on the development Chitrakoot mega tourism destination. The works included development and beautification of Raghav Ghat, construction of stop-dam and pathway across Mandakini River and provision of public amenities at other scenically beautiful places, arrangements for drinking water, lodging etc. Works have also been undertaken for beautification of road from Bharat Ghat to Kamadnath, construction of tourist welcome centre, parking at Hanuman Dhara, drinking water arrangements there, improvement of stairs., development of Mela Ground, provision of public amenities, Diwas Basera (daylong stay shelter) and landscaping.
Similarly, Sati Anusuiya Ghat was developed, railing and high-mast were established, drinking water and public amenity arrangements were made apart from construction of sheds at Kamadgiri Path, Diwas Basera, stone cladding, chain-link facility, parking and landscaping. A pathway has been constructed on all the sides of Saryu Kund apart from railing, chain-link facility, parking and landscaping. At Gupt Godavari, tourists assistance centre, Diwas Basera, high-mast, public amenities, parking facility have been development and improvement of approach road and stairs. Rooms have also been constructed there.
Works to the tune of Rs. three crore 47 lakh have been undertaken in Maihar, which include construction of pathways from check-post to temple and at Vishnu Sagar Lake. Besides, Diwas Basera, public amenities, park, tourists' assistance centre have also been developed apart from replacement of old musical instruments of Maihar Band, arrangement for new attires for the Band's artistes and establishment of cafeteria have also undertaken.
Similarly, a sum of Rs. seven crore 82 lakh has been spent on the development of Chitrakoot, Dev Talab and Deurkothar. These works include construction of Ghat on the banks of Mandakini River, apart from Diwas Basera, paving along the Ghats, high-mast light, railing and benches etc. An interpretation centre has been constructed at Deurkothar and a Diwas Basera and approach road have been constructed at Dev Talab. Water sports arrangements in Bansagar have been upgraded and a road constructed there at a cost of Rs. one crore 70 lakh.
Courtesy: centralchronicle.com