(News) Samajwadi Pension Scheme to Cover drought-hit Bundelkhand
---
Samajwadi Pension Scheme to Cover drought-hit Bundelkhand
---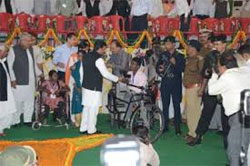 To tackle the socio-economic crisis in drought-hit Bundelkhand, chief secretary Alok Ranjan directed district magistrates to cover the entire impoverished region under Samajwadi Pension Scheme.
Speaking to the TOI, the chief secretary, who toured Jhansi and Lalitpur districts of Bundelkhand on Saturday, said the region was facing acute poverty and he apprehended shortage of potable and food in summers. He directed the administration that before other measures, Samajwadi Pension Scheme should cover all the poor, MNREGA work days be enhanced and food security guaranteed to each individual. To provide some cash in the hands of the poor and drought-hit, Samajwadi Pension of Rs 500 a month will be given immediately and if there is need special camps be organised for them, he directed.
This is second visit of the chief secretary to Bundelkhand in two months to supervise welfare schemes and government intervention in the drought hit region of the state.
Courtesy: The Times of India