(News) Seven Solar Power Plants will be set up in Bundelkhand
Bundelkhand
Seven Solar Power Plants will be set up in Bundelkhand
Taking up the implementation of its new solar policy, UP government issued a letter of intent to seven companies for setting up solar power plants with a total installed capacity of 130 Mw on Thursday. All these power plants will be set up in the Bundelkhand region. This was besides setting up a 100 Mw power plant in the joint sector involving the National Hydro-electric Power Corporation and UP NEDA. The power plant is proposed to be set up in Kalpi of Jalaun district in Bundelkhand.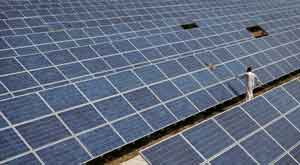 The state government also signed a memorandum of understanding (MoU) for acquiring around 424 Mw of power for the next 25 years beginning 2016. The supply will be by Lanco power limited. This is the second agreement the state government has entered within a month. Previously, the state government had entered into an agreement for purchasing over 300 Mw of power from the power trading corporation.
The seven companies which have been issued letter of intent include M/s Colonizers and Developers, Jackson power pvt ltd, DK Infracon Pvt Ltd, Rifex Energy Pct Ltd, Azure Surya Pvt Ltd, Essel Infra Project and Moserbaer Clean Energy Ltd. Issuing the LoI to these companies at a public function organised at his official residence, chief minister Akhilesh Yadav said coming up of these private companies marks a paradigm shift to how the state is being looked at by investors. "We hope these companies will set up the power plants as soon as possible," he said.
UP chief secretary, Jawed Usmani said the gap between demand and supply of power has been to the tune of 20%. "We expect to bridge that gap by bringing in more and more power plants to the state," said Usmani.
Courtesy : The Times of India